45 minutes: Where can you really eat?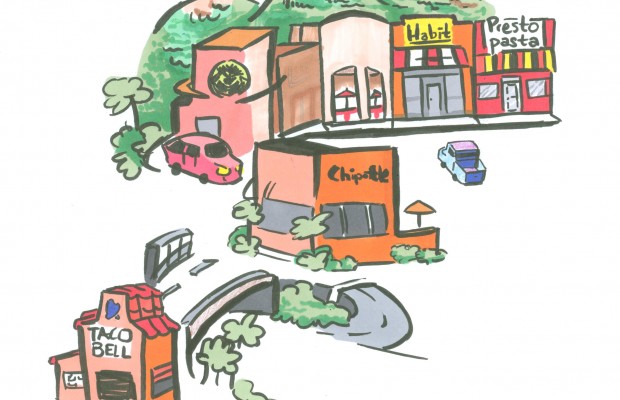 THE HABIT
If Taco Bell makes you feel queasy, or if you need some solid food to get you through your fifth period sports practice, leave a few minutes earlier and go to The Habit. "The best thing about The Habit is that the service is fast and it's quality food for a fast meal. There is something on the menu for everyone. From what I've heard, everyone loves the Charburger, but I like their chicken nuggets," Rachel Katz, senior, said. You can always count on a good tasting meal from The Habit, and this definitely won't leave your wallet empty either.
Convenience: 4/5
Taste: 4/5
TACO BELL
The ultimate "I HAVE NO TIME" option. Taco Bell can get you just what you want, as fast as you could possibly want it. "The best thing is their addictive burritos and their freezes. Food-wise, you can never go wrong with the Doritos locos tacos. If you like burritos then the beefy nacho griller or the beef quesarito wins hands down," Ali Guth, junior, said. "Plus, Ted is the nicest worker there. He always gets your order right." So head on over to Taco Bell, and say hi to Ted.
Convenience: 5/5
Taste: 5/5
PRESTO PASTA
Considering it doesn't taste like fast food, your food comes pretty fast. Not particularly busy and only 5 minutes from campus, Presto Pasta is a good option to consider. "It's fast and really good. I normally get the tortellini with chicken and marinara sauce," Grace McCloskey, junior, said. If you're not really in the mood for a pasta dish, Presto Pasta also has a wide selection of salads, soups, pizzas, and sub sandwiches. Whatever you feel like eating, make your way to Presto Pasta and smell the beautiful smells of marinara sauce.
Convenience: 4/5
Taste: 4/5
THE CHIPOTLE
A classic favorite. If you can get off campus in less than10 minutes, Chipotle is a viable option. According to Kurt Kemper, senior, it takes him about 5 minutes to get to Chipotle. "It's great because you can get a burrito or a bowl and put anything and everything you like in them," Kemper said. With multiple options when it comes to customizing your meal and tons of parking, Chipotle is definitely an off-campus lunch possibility.
Convenience: 4/5
Taste: 5/5