"A Star is Born" hits all the right notes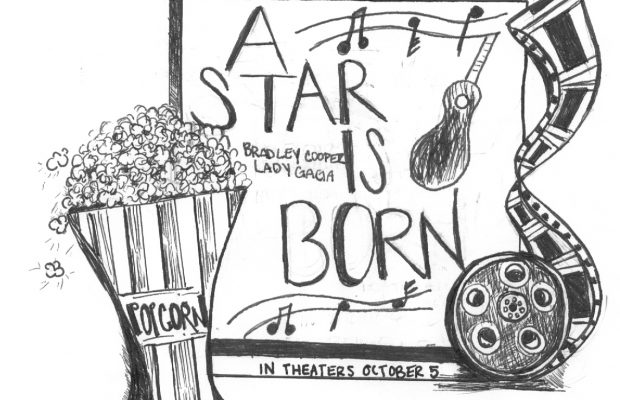 As the lights fell, an electric chord echoed through the packed theater. Viewers were instantly entranced, dragged along to an erratic tempo that left them laughing one second and crying the next. From elation to desperation, A Star is Born grabs audiences and does not let go until the last note.
Bradley Cooper directs and stars in the film alongside Lady Gaga, who makes her screen debut. It is a familiar story, following a young woman's rise to fame.
A Star is Born has been remade three times since its conception in 1937. There is something resonant about a story that survives through so many different time periods. Today, the Esther of the 1930s, the farmgirl and aspiring actress, has been replaced by the struggling songwriter, Ally. The narrative fits perfectly in 2018, a time when everyone wants to be a star in one way or another.  
Much like the musical movies that preceded it, such as La La Land and The Greatest Showman, A Star is Born examines fame, and one's yearning for it. However, unlike its predecessors, the film shows the industry in an unflinchingly harsh light. Technicolor lights and applause can not always be equated with happiness and elation. Cooper does not shy away from calling out the ugliness it can breed.  
The film excels at crafting intimate moments. We get dreamlike close up shots of Cooper and Gaga falling in love in the hazy neon glow of bars, deserted grocery store parking lots and quiet roadside diners. There is something magnetic and irresistible about the chemistry between the pair.
Their playful banter felt natural and every exchange was pitch perfect. However, amid the flashing lights and cheering crowds, there are times when discomfort seeps in around the edges. The film is constantly undercut by gripping moments that deal with darker themes. Cooper's portrayal of addiction loomed over the story like a dark shadow, nearly eclipsing Ally's own rise to fame. A Star is Born is not always an easy film to watch, but it's impossible not to listen to.
The music elevates the film to a new level. It has a reflective quality that allows audiences to linger in a moment, drawing out the full potential for emotional impact. Each song feels as essential as the characters who sing them. The music is not merely background noise or a repetitive rehashing of the events of the film.The soundtrack has topped charts and it is no surprise. Several singers working in the industry, including Gaga herself and Lukas Nelson, a guitarist for Neil Young, had a hand in the songwriting process.
A Star is Born guides viewers through a messy, complicated range of emotions. Cooper never tries to put a band-aid over reality, trusting the viewer to sort through what they have seen and come to terms with it in their own way. It is an experience that forces a person to feel, and leaves us reaching for something, but not necessarily for what we expected.
Despite all its glamour and bright lights, A Star is Born reminds audiences that as much as we strive for fame and recognition, sometimes the most precious gift is normality, and genuine human connection that transcends the glow of the stage lights.