Acacia elementary students study science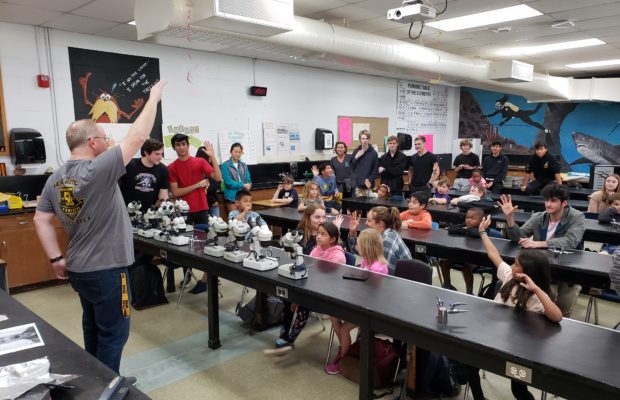 On Friday, Feb. 28, students from Acacia Magnet School's Enrichment Clusters program came to Newbury Park High School for an immersive experience to learn more about a subject they show interest in, including visits to the physics, culinary arts, broadcasting, and strings classes. 
Students who chose the science track with the AP Physics class participated in three activities at the event: making a catapult, creating a raft to support pennies and observing mealworms through a microscope. 
"I hope they learn some problem-solving skills, and make some good observations from their setups and adjust them to make them better," Darin Erickson, a NPHS science teacher who assisted with the event, said. "That's what STEM is all about."
The program is about more than just the educational aspects, as it also brings students from across different grade levels together. "It makes the kids interact with the other students because I don't think they all know each other," Michelle Colvin, senior, said while assisting during the event. "They're building bonds with each other and learning at the same time."
Through the activities that were held on campus, the Acacia staff strived to expose the students to different skill sets and career possibilities early on. "We're really hoping that they find a passion and explore that later on their own and that they really have a love for science," Lacey Garl, an Acacia Academic Specialist, said.