Achievements are highlighted at Senior Recognition Night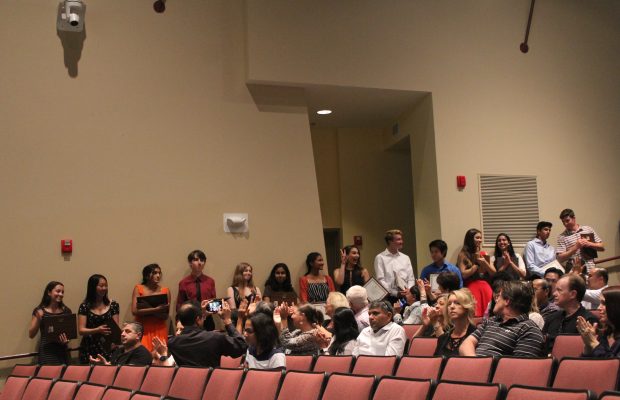 A wave of students filed into the Performing Arts Center for the six o'clock start. On Wednesday May 29, 250 students were invited to be honored at Senior Recognition Night for both academic and athletic achievements. Peers and family members smiled as the ceremony proceeded, where teachers and school faculty highlighted student accomplishments from the past four years.
During the ceremony, many groups of students were recognized, from thespians to athletes to valedictorians. Students received an array of awards as well, such as gifts from teachers, tassels and stoles to wear at graduation and certificates of achievement.
This year, NPHS had a record number of full IB diploma recipients, with 55 students making it through the rigorous coursework. Additionally, an almost unheard of number of valedictorian, students who received higher than a 4.65 GPA after four years, were recognized, as 34 students took the stage.
Further, on Thursday May 30, these students were recognized not just within the school, but within the district as a whole. In fact, prestigious students from many different high schools in the area, such as Westlake and Thousand Oaks, joined Newbury Park students at our Performing Arts Center to receive accolades.
Stephen Lepire, principal of NPHS, was happy to express pride in the class of 2019 as he announced student names. "For the last four years they've worked so hard to achieve that. We really want to celebrate that tonight and the hard work they've done," Lepire said.