Advertising Information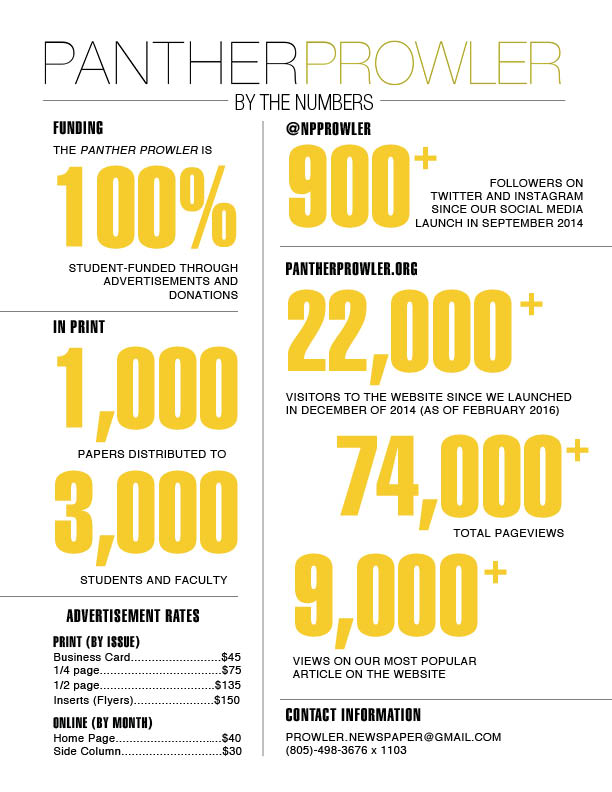 Ad Rates:
Print (per issue):
Business Card  (2 ¼ x 3 ¾) // $45
Quarter Page   (10 ½" x 3 ½") // $75
Half Page (10 ½" x  6 ¾") // $135
Inserts (Flyers, 10 ½" x 13½" ) // $150
–
Online (per month):
Home Page // $40
Side Column // $30
Advertising Policy:
We ask that all advertisements be emailed to the email account below at least five business days before publication night. Please have the advertisement in Adobe PDF format.
We can design advertisements at the request of the advertiser. Please send the information to be in the advertisement at least ten business days before publication night. We will have a copy finished seven business days before publication night for you to approve, and request that the final advertisement be ready five business days before publication night.
An invoice will be sent out on the day we release the paper, along with a copy of the issue

All payments for single month advertisements must be received two weeks after the paper comes out at the latest.

For any advertising contracts longer than one month, we request that the advertisement payments be received before the first issue comes out.

If you wish to advertise with inserts please send 1,000 copies to the address below by publication night.
Discount Policy:
We offer discounts of 10% for 6-month commitments and discounts of 20% for 11- month commitments

Payments must be made prior to the first issue advertised. Invoices will be sent prior to the first advertised issue.
2017-2018 Publication Dates
Issue I: September 15
Issue II: October 6
Issue III: October 27
Issue IV: November 17
Online Issue: December 15
Issue V: January 23
Issue VI: February 9
Issue VII: February 23
Magazine: April 27
Issue VIII: June 1
Please email prowleradvertisements@gmail.com if you have any concerns or would like to advertise in the Panther Prowler