Antigone Astounds Audiences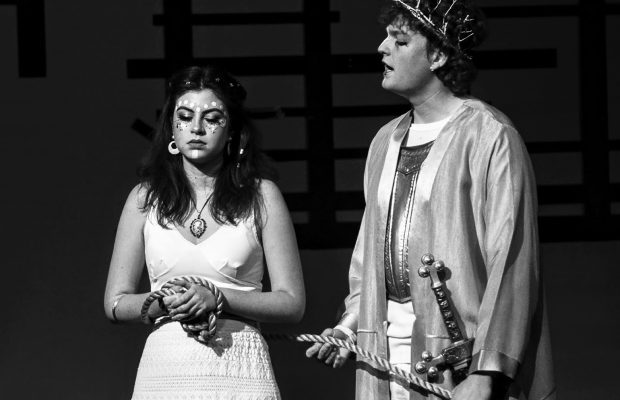 Mystic dancing, drums beating, people decorated in glowing tribal paint, people shouting and hissing and hollering about curses. It may seem like some kind of tribal ceremony, but in fact, it is a high school play. Antigone is a Greek tragedy about the struggle between Antigone's wishes to give Polyneices (Antigone's brother) a proper burial after he died in battle. However, King Creon believing that he had committed treason, mandates that he not be buried. When Creon discovers that Antigone went against his wishes, and buried Polyneices, Creon locks her in prison, resulting in her death, and the death of his son.
   As tragic as the plot may be, it is not all doom and gloom. Thomas Kitchell, junior, portrays the Sentry, a key role in the play, not only for being the person that discovers Antigone but also for serving as the only comic relief in the entire play.
"The role was a piece of cake. My favorite thing is to make people laugh," Kitchell said. Although portraying the comedic role of the Sentry was easy for Thomas, it didn't come without its challenges. "I had a lot of monologue and soliloquies to memorize. It took awhile for me to memorize them all."
Overall, his memorization and night rehearsals paid off. Being Kitchell's first role in a play, he left the audience with smiles on their faces. "I loved playing the role. When I got the role I thought 'How can I make this as funny as possible? It was a ton of fun,'" Kitchell said.
   Chorus members served the purpose of establishing the tone and at times narrate scenes, as well as add more emotion or context to certain parts. In addition to many new actors, season thespians took the stage as well. Olivia Boyd, senior, has been involved in theater since sixth grade. Olivia's role as the Priestess sets the scene for Act I, introducing King Oedipus to the audience and portraying him in a positive light.
"The best part of my role was getting to speak in Greek during the opening monologue. It was a very versatile role," Boyd said. She initially faced some challenges with her part as the Priestess as well. "The length of the monologue was the most difficult part. It was also a very different way of moving," she said. Olivia's role as the Priestess demonstrated how the chorus felt about the monarchy at the beginning and end of the play, in contrast to the end of the play. Olivia is set on pursuing theater in college and beyond doing freelance jobs, working as a performer or resident technician.
Much like Boyd, Justin McAllister, sophomore, has been involved in theater since sixth grade, acting in short films for school. McAllister played the role of King Theseus, who had a choreographed fight with Polynices. "I do battle with prop weapons whenever I can because I find it fun. (Ms.) Strange wanted us to use our talents in Antigone and said having a choreographed fight scene would be perfect," McAllister said.
Although the fight scene was choreographed, sometimes the fighting would result in harm. "One time, I accidentally hit him with a stick, but there's no way it can compare to this one time were Jamie (Polynices) accidentally uppercut me in the jaw." In addition to the blow to his jaw, McAllister had other physical challenges for his role. "The challenge with the role as King Theseus was fixing my posture and really getting into the part as the king. In other productions, I had always played the role as the comic-relief role, so this was definitely a big change for me."
For all thespians old and new, Antigone was a pleasant experience. "Becoming friends with the cast and learning how to do so many cool choreographies really helped me keep my mind off of school and stress, and usually before shows in the past I have always been very nervous before and going into performing. However, with Antigone it felt relaxed, and if somebody messed up it would be okay. The cast of Antigone provided the most home-like atmosphere I have ever had the luck to witness," McAllister said.