"Baaaaa-Maste" meets Conejo Valley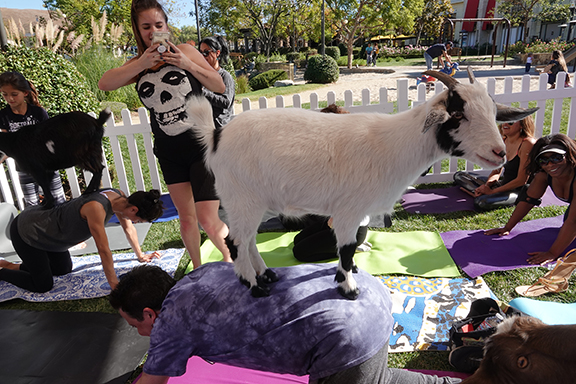 You make your way slowly to a tabletop position, engaging your core, and all of a sudden, leap! A goat jumps onto your back for a treat.
On Sunday, Nov. 17, YOGOAT LA came to The Lakes in Thousand Oaks to instruct an hour-long yoga class with their trained goats. YOGOAT is a goat yoga company started by Eli Bahar, a student at UCSB, who rented and brought goats to Coachella Music and Arts Festival two years ago for a one time yoga event. Over time, however, Bahar continued these events and it grew into his up and coming company. Bahar trained his goats for social interaction and his company has since traveled from San Diego to San Francisco doing these events. As the company grew, they bought a "goat mobile" and even a farm for their goats, and the media became more and more interested. 
"We've made it onto some pretty big platforms. We've worked with the Ellen DeGeneres Show now three times, so that's been a very big step for us. We've done events with NBC Universal, we've done events with Ernst and Young, we've done events with so many big corporations. That kind of blows my mind sometimes," Bahar said. Moreover, Bahar looks forward to making his company into a lifetime career.
I had heard about the event while looking at upcoming local events online and decided to participate in this unique experience that Sunday morning for only $20. As I arrived at The Lakes, a long line of over 50 people waited to join the outside class, one of the largest classes Bahar has had outside of university events. The goats were brought into the gated area, where everyone laid out their mats.
This class was taught by one of Bahar's friends, Olivia House, who aspires to be a yoga instructor and open a yoga studio. Although it was hard to hear the instructions at some points and the poses were rather repetitive, many class members and I enjoyed interacting with the goats as we did poses like Downward Dog and Reverse Warrior. This was her first time teaching a class like this, but she believed the class went smoothly. "I really could tell the energy was great. The goats made it really fun and comedic," House said.
The goats were extremely well behaved and would climb on people for treats (animal crackers). Unfortunately, some of the class-takers tricked the goats into thinking they had treats so they would jump on them, but it only made the goats upset. One mom brought two small children who would not stop complaining until the goat jumped on them, and once it did, I thought the goat would crush the kid due to how small she was compared to the animal. Luckily, they were pretty light when they got on people's backs and it felt like getting a back massage. The goats weren't exactly potty-trained, but luckily nobody got peed on. Some goats did their business on a yoga mat or two, but that was about the worst thing that happened. The goats didn't fear people either and would walk through warrior poses to get treats and pets.
The class closed with quiet meditation, despite the distraction of a couple bleats from the goats. Afterwards, everyone was welcome to take pictures with the goats on their backs in tabletop position, which I couldn't help myself and had to participate in. I got to talk to the instructors afterwards and learned all about their passions of both yoga and goats. When leaving the event, the local smoothie store, Sunlife, offered free samples of their most popular smoothie and ten percent off their smoothies for any participants of the yoga class. Although I didn't love the taste of their samples, it was still a kind gesture.
All in all, this class was entertaining and an enjoyable time. It was a good opportunity to have fun with animals while building your core. According to the company's website, yogoatla.com, there will be upcoming classes in the area including one at The Commons in Calabasas, date to be determined. To any who seek to do this event in the future: it is more about the goats and less about the yoga, but I recommend doing it because it is a unique, great experience.