Balancing acting, school work, and everything in between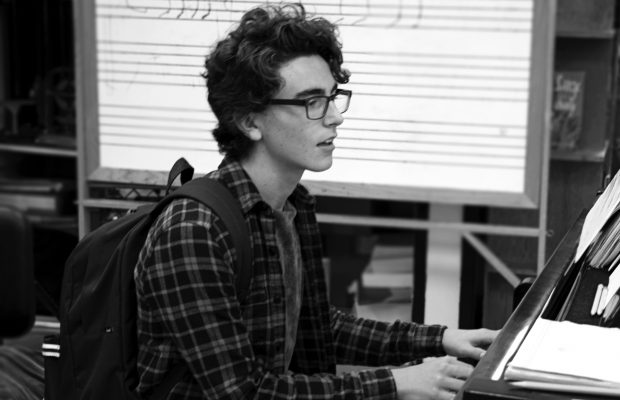 Singer. Student. Piano player. Actor. Writer. Sam Herbert, junior, is all of these things and more.
Herbert started his many extracurriculars when he was very young.
"My grandma got me into piano lessons. And whenever I was little I would start dancing all around and stuff," Herbert said. People saw his potential in acting and singing, and encouraged him to perform. "I kind of sucked at first. No I didn't kind of, I did suck."
With time, Herbert grew better at performing and eventually "'blossomed into who I am today," Herbert said. "I just kind of found my own passion for it. It's just really fun, and I'm very passionate about it. It's what I love to do."
Herbert spreads his passion for music through his SoundCloud account where he posts original music and covers.
Taking AP and IB classes, Herbert can also manage his student life without too much stress. A fine balance is made between Herbert's art activities and his school. "My dad is all about school, and my mom is all about the art stuff that I do. So they help me balance it out, because I can listen to both sides."
Noah Varav, senior, does many of the things that Herbert does, so he knows what the workload is like. "I can't believe he even has time to even do any of his homework, because it's a huge time commitment to do just one of the things that he does, but he does so many things: theater, singing, and acting," Varav said.
In regards to theater, Marilyn Strange, theater teacher, has seen a lot of potential in Herbert. Even in freshman year, Herbert landed a named role in a musical, which Strange said "is not unheard of, but not exactly common… He's a very strong singer, and he's a very, very talented actor… It's nice to have Sam aboard. He's doing a great job."
Strange sees Herbert as an example for many of his peers.
"(Herbert's) become more of a leader in that group. Sam has been working in this business for a really long time. He hasn't only been doing theater here, he's done it outside in the world, professionally, he gets out there, he auditions for things, so he knows how the business works,"  Strange said. "He knows the expectations, and so he is able to take that kind of leadership role and teach other students what is expected and is a role model when it comes to that stuff."
Despite the pressures of high school, Herbert manages to remain stress-free. "He's really easy going. He's got a wicked sense of humor. He likes to laugh. He just kind of lets things roll off his back,'" Strange said.
Varav also describes Herbert as "kind of a goofy, fun dude. He's really outgoing and nice, and he's just accepting of everyone. He's a good dude."
"(Herbert's) always happy and it doesn't really bother him that he has a bunch of stuff going on. I think he actually thrives when he has more things going on," Varav said.
Herbert's advice about school is simple. "You just gotta do what you want to do. You just gotta kind of enjoy it. Be as stress free as possible, even though deep down you're super duper stressed out. You just gotta make yourself believe that you're not stressed out. Also, I know that everyone says this, but its really, really true: you just gotta work hard."