Binge watching over the break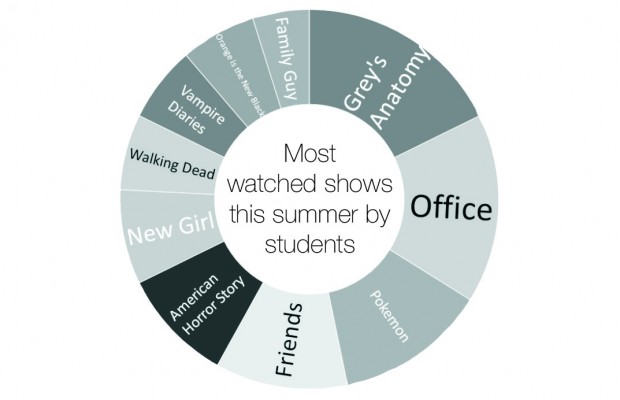 The summer is a great time to binge watch all your favorite Netflix shows. From Grey's Anatomy to Family Guy, here are the top viewed shows for NPHS students during the summer of 2016.
Grey's Anatomy comes in first with 10% of surveyed people having watched it most this summer. Grey's Anatomy takes place in a hospital in Seattle and follows the life of Meredith Grey (Ellen Pompeo) and her colleagues as they progress from interns to doctors. This drama filled show holds the attention of the audience using the tense relationships between the residents and the never-ending stream of patients that require their attention.
9% of the people who were surveyed watched The Office over the summer. This show is a mockumentary about a small town paper company in Scranton, PA. The show stars Jim Halpert (John Krasinski), Michael Scott (Steve Carell), and Pam Beesley (Jenna Fischer), among many other well known names. The Office appeals to viewers who are looking for light-hearted comedy in every half hour episode.
Pokemon had a 7% viewership causing it to come in third. Pokemon follows the story of Ash Ketchum in his journey to become the greatest pokemon trainer. Because of the release of the new PokemonGo app this year, many students rewatched the show that originally aired in 1997. Gotta catch 'em all!
Other binge worthy shows from the summer included New Girl, Orange is the New Black, and The Walking Dead, among others.