Borchard boys ball out for a good cause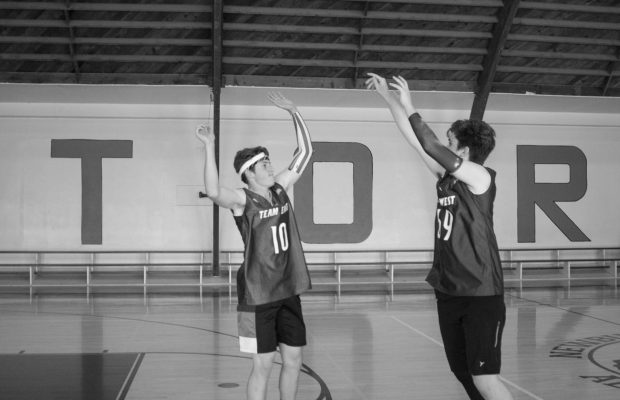 The rhythmic dribbling of the basketball and the squeaking of basketball shoes echo throughout the gym, both teams fighting relentlessly to acquire the sweet taste of victory.
The Borchard All American game commenced on May 26 in the Newbury Park Adventist Academy gym. The players faced off in a four-on-four basketball game and the proceeds from the game were donated to Special Olympics.
With a 22-22 tie at the end of the first quarter, Team West took the lead in the second quarter and finished the game victorious with a final score of 59-40. "We've been practicing day in and day out for the last three weeks. It feels good to finally be on the court and play," Dylan Zielinski, junior and member of Team West, said.
Stamina played a big role in Team West's victory according to John Mudgett, junior and team captain of Team West. "We just kept a pace, we kept it fast, and just wore them out over time" Mudgett said.
Although Team East walked away with the loss, they kept their heads held high, especially the twice selected most valuable player, Nikhil Patel, junior and team captain of Team East. "We executed our gameplay really good, and I feel like we put everything out there," Patel said, "We worked our butts off today."
Team West consisted of Mudgett, Zielinski, junior, Kyle Agnello, junior, Chase Hall, junior, while Team East consisted of Patel, Dylan Scott, junior, Scott Detweiler, junior, and Bentley Simcox, sophomore. "Our group of friends, we decided to have them all play a basketball game together because they were kinda talking trash to each other and we thought it would be fun to have them play and compete a little" Dean Magnante, junior and one of the event's commissioners, said.
Jack Muir, junior and founder of the Borchard All-American game, joined forces with his close friends, Magnante and Luke Hamaker, junior, to make the event possible. "The first one was at my house and we just wanted to film it and make some highlight reels for it," Muir said.  "But as we talked about it and made more highlight reels, more people started to see it and we eventually wanted to turn it into a real game that people can watch, and so now we have a full event at a gym.
Hamaker publicized the event with highlight reels which can be found on the Borchard All-American Instagram account (@borchardallamerican) as well as its YouTube account ("Borchard All-American Game"). "I think the reason why people want to come is obviously not to see basketball skill, but to see the people playing in it and see how competitive it's going to get," Hamaker said.
All fun and games aside, Muir is donating the proceeds from admissions and snacks straight to the Special Olympics. "Ms. Alvarez has been a really big part of my school career, and we just thought that from the Borchard All American game we can actually make money off of it and we don't really need the money," Muir said. "We thought if we could donate (to the Special Olympics) it would be a good cause to donate to."
At the event, the bleachers were filled with spectators. "When we all first started this, it was more just for fun for ourselves, but now seeing all these people come to the gym to watch the game and all the stuff we set up, it really is rewarding," Muir said, "It makes me feel pretty good about how we did."