Boys' Cross Country looks to improve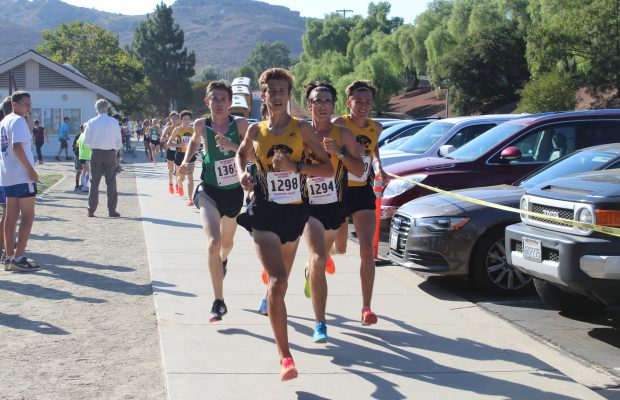 Two years in the making, the Panthers have finally emerged from the shrouds, ready to take on the upcoming Boys Cross Country season with a new vigor and high prospects.
The Panthers, now seeded fifth in the state and twentieth in the nation, have put a lot of focus into their preparations for this season. Sean Brosnan, head coach of the Cross Country team, attributes their new found success to both growth and hardwork.
"Two of our top three are only juniors, so I just think that sophomore year to junior year makes a big difference on maturity," Brosnan said, "our guys are probably running close to low 60 miles a week… they aren't just dragging their feet everyday, they are out there owning their miles and I just think that it is an increase in miles and intensity."
Ethan Ronk, senior and team captain, commented on the potential the team has for this season. "Our top three are really, really solid this year, and that includes juniors Jace Aschbrenner and Nico Young, who are both incredible runners," Ronk said.
Incredible is just one way of putting it. According to Brosnan, "Those guys, on a fast three mile course can run a low 14 minutes which not many teams in the country can do."
Since taking on the role of team captain, Ronk has contributed to these improvements by maintaining a solid work ethic and keeping spirits high. "My biggest role for this year is to make sure that I'm pushing everyone to be the best that they can be and that I make this year something that the team can truly remember," Ronk said.
Collectively, the team has been focused on the Woodbridge Cross Country Classic, the largest high school cross country meet in the nation. Jace Aschbrenner, junior and fastest three-miler in school history, hopes that this race will open opportunities for the national competition. "There are three races this season that can help us get to the Nike Cross Nationals. It's Woodbridge, the Clovis Invitational, and the (California) State meet. Woodbridge is a huge first impression meet," Aschbrenner said.
The Panthers will be tested in their first major meet on Sept. 15 at the Woodbridge Cross Country Classic in Norco. Aschbrenner is hopeful that the team will perform well. "This could probably be the best year for cross country in school history."