Boys' Cross Country takes on nationals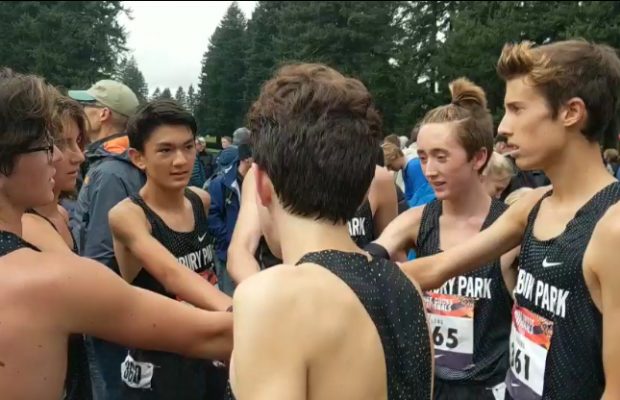 The road leading to the Nike Cross Nationals competition was not an easy one for the boys' cross country team. It involved countless hours of training, miles of runs and, fundamental to their success, a strong team community. Finally achieving their dream on Dec. 1 in Oregon, seven runners attended the national race: Daniel Appleford and Colin Sahlman, freshmen, Nicholas Goldstein, sophomore, Jace Aschbrenner and Nico Young, juniors, and Kyndall Long and Ethan Ronk, seniors.
Practice began like any other season, at the beginning of summer. The runners would clock in around 60 miles a week the closer they got to their competitions, up until CIF. During the middle of their season, their long runs ranged from eight to twelve miles.
"The entire mindset has been different for this season. We had big goals coming into the season and that came with a lot of hard work, but we pulled it off," Ronk said.
According to Ronk, these goals were to "defend our league title, win a CIF title, win a state championship and make it to nationals," all of which they accomplished. As a senior on the team, he says he "couldn't be more proud."
For Aschbrenner, making it to nationals was a surreal experience. With an injury earlier in the season that stopped him from racing for three weeks, he was able to come back and qualify for the competition.
"It was an incredible experience… it was just really crazy to take in, I was smiling the whole time," Aschbrenner said.
Out of the 204 racers at the national race, Aschbrenner placed 66th. Next year, Aschbrenner has set a higher goal.
"I definitely want to be up there with Nico. It'd be awesome if two guys in the top 10 are from here. Essentially, my goals are to catch up with Nico," Aschbrenner said.
Young shares a similar sentiment. After breaking the school record with a time of 14:01, Young placed fourth at nationals; he's not done yet.
"I'm looking forward to us making nationals again and hopefully top ten as a team, and myself winning individually," Young said.
In addition to training physically, Young and the team have to train mentally. Young said that with all of the distractions at the Nike headquarters, he "had to definitely think about what I needed to do and focus."
With a national competition checked off their list, the cross country team is now gearing up for track season, but according to Ronk, "this team really is something special."
"The quality of guys on this team is incredible and I really do love them all like family," Ronk said. "A message I have for the younger guys on the team is just appreciate every moment. Appreciate these guys, they'll become a second family if they haven't already. You can make a bigger impact than you know."