Boys' wrestling prepares for upcoming season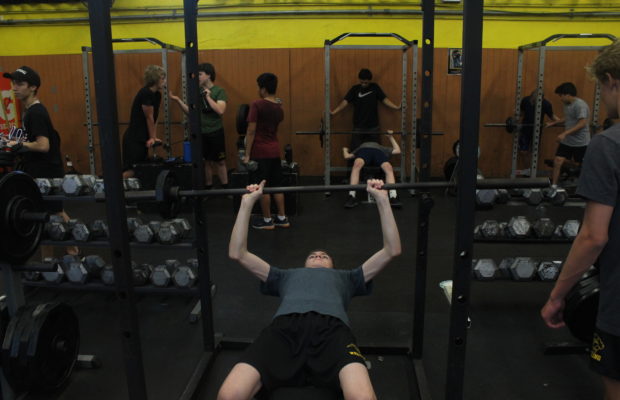 This November marks the start of sophomore Ryan Augustine's second season of boy's wrestling, and the team has already begun their rigorous training.
"The preseason has helped me a lot in getting stronger, and improving my stamina and wrestling skills," Augustine said. 
During the season, wrestling practice occurs every day after school. "We go to the weight room and run and workout," Augustine said. "Then we go to the wrestling room at around 5:30, and start wrestling and working on technique."
For returners and new athletes alike, going to practice every day is crucial. "We are hoping to help new wrestlers and freshmen get better and more comfortable over the season so they can come back next year with experience and do even better." Augustine said.
Team captain Brett Philbrook, senior, is also looking to what the future will hold for the wrestling team. "As a team, we are always focused on improving each other," Philbrook said. "Varsity is focused on winning CIF this year. We are working harder than ever at practice."
The pressures of competition can lead to frustration, but coach Chris Kilbane sees that facing these adversities pays off in the end. "Wrestling builds character and skills that student-athletes carry with them throughout their life," Kilbane said. "Ability to succeed with grace and fail with dignity, and an understanding that success comes from doing your best and never quitting."
Kilbane, an alumnus of the wrestling team himself, began coaching in 2016 with the intention to give back to the program, especially by working with the student-athletes to help them develop important life skills. "(I hope) that the wrestlers gain a deeper understanding of themselves," Kilbane said. "They are capable of much more than they think."
Philbrook also recognizes the importance of practicing for the mental aspects of the sport. "Most of us have to prepare mentally individually," Philbrook said. "Mindset is everything."
Determined to make his impact last, "I want to create a legacy," said Augustine, hoping that with his preparation, this season will be his best.