Breast Cancer Awareness: be the cure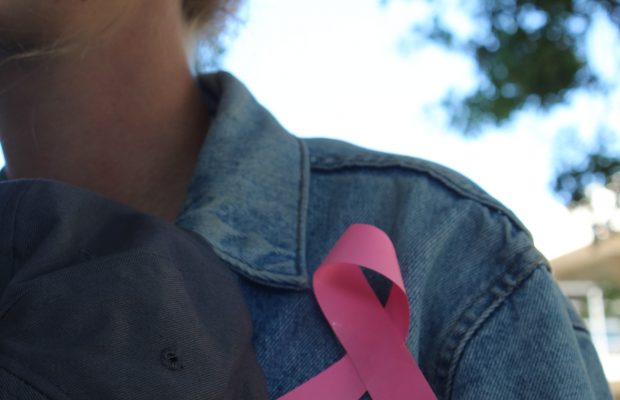 What is Breast Cancer?
With October being breast cancer awareness month, people are discussing how the disease affects millions around the world. However, for many, the actual meaning of breast cancer remains unclear.
Dr. Lynn Jeffers, medical director of the Integrated Breast Center at St. John's Regional Medical Center in Oxnard, defines cancer as being a disease in which body cells grow unchecked. In the case of breast cancer, a genetic mutation causes these cells exhibit rapid growth in the breast area and can grow to form tumors. Cancer cells affect different parts of the breast, with most originating in the ducts that carry milk to the nipple. Breast cancers are typically categorized by the types of cells that have been affected, as well as whether they have certain tumor markers, which are receptors for cancer cells. Once they have developed in the breast, cancer cells can metastasize through blood or the lymph system and affect other parts of the body. "Sometimes (cancer cells) can go… to your liver and your brain and other places. And when it does that all those cells that are out of control will wreak havoc," Jeffers said.
Contrary to popular belief, men can also suffer from breast cancer. According to the American Cancer Society, in 2018, an estimated 480 men will be diagnosed with breast cancer. Men with breast cancer experience many of the same symptoms as women, such as the growth of tumors in breast tissue and the metastasizing of cancer cells. However, men often do not seek treatment in a timely manner, as they are not prone to regularly check for breast cancer.
BRCA genes, proteins that help repair DNA, have mutations that are notorious for their correlation with the appearance of breast cancer. "Certain kinds of BRCA give you an 80% chance in your lifetime to get breast cancer," Jeffers said. BRCA mutations spread through genetics and can increase the risk for many other cancers, such as prostate and pancreatic cancers.
There are several treatments for breast cancer today. From a surgical standpoint, lumpectomies and mastectomies are options, in which the breast is partially or completely removed. Additionally, chemotherapy, in which cytotoxic drugs are administered to patients, can work to fight cancer from inside the body. "(Treatments) really depend on the person. There's not 'one way is better than the other': it depends on that patient's situation and their cancer," Jeffers said. Although treatments in breast cancer have advanced tremendously within the last decade, it continues to claim thousands of lives. It is estimated that 41,400 people will die of breast cancer in 2018 alone.
Those affected
Breast cancer alters lives. Breast cancer alters self image. Breast cancer alters relationships. But breast cancer also makes survivors so much stronger.
Christy Hodson, English teacher, was first diagnosed with breast cancer nine years ago, on February 27, 2009. She was diagnosed with both lobular and ductal carcinoma at stage 2B.
Hodson's initial reaction to the diagnosis was "absolute disbelief, absolute shock. I wasn't necessarily shocked that this kind of fate would befall me, in terms of 'this couldn't happen to me,' but breast cancer was the farthest thing from my mind."
After being diagnosed, Hodson decided to go through with treatment. "The fact that it was stage 2B meant that I had a significant chance for survivability, so I elected for surgery, for chemotherapy, for radiation, and I took medication for the breast cancer treatment."
Hodson took off March through June of 2009, returned that August for the beginning of the next school year and has been in the classroom ever since. At that time, Hodson could still feel the effects of the chemotherapy, even months after completing it. "It's the chemotherapy side effects that make a person look so ill," Hodson said. "It's not the cancer itself, but it's the chemotherapy that makes people look so so fragile."
For Hodson, having cancer gave her a different outlook on life. "It gives me an appreciation for living, and it gives me an appreciation for health, and probably sensitivity for the way people regard each other," Hodson said. "Breast cancer treatment, probably any cancer treatment, can profoundly alter your physical appearance and your physical well being, so I think there's a sense of proportional and (proprietary) sensibility towards that in terms of what's important in life."
The treatment that Hodson went through caused her to lose her hair. And while that was hard on her, she was determined to be there for her family, and was able to push through it and persevere.
Just this past summer, almost 10 years after treatment for the initial diagnosis was over, Hodson was diagnosed with cancer again. This time, it is lobular carcinoma at the fourth and final stage of metastatic breast cancer, which has metastasized to her bones.
The news of the second cancer diagnosis was "potentially more devastating news than the initial diagnosis," Hodson said. "I had a very strong reaction recognizing that it's a terminal diagnosis, and that I needed to get my affairs in order."
However, after hearing the news, Hodson's doctor reassured her that while it is incurable, the cancer is "very treatable," and he believes that she has many more good years ahead of her.
Something that was really difficult for Hodson was that she was very close to being without any evidence of cancer for ten years when she was diagnosed again. "I had a year and a half left on the medication, and if scans and bloodwork came out to indicate no evidence of disease, (my oncologist) probably would have had me go many years without seeing him for a checkup, he would've discontinued taking the medication," Hodson said. "I was very close to what I thought was the finish line."
Despite all of this, Hodson has kept a brave face, as "at this point in time, there's not evidence that it has metastasized or invaded any major organs."
Through the cancer diagnosis, Hodson has found that while many people are supportive, there are some that have difficulty coping. "You find out truths about people in your life that you wouldn't know if you hadn't had the diagnosis," Hodson said. "There's people who step up to support in ways that you would have never imagined that they would have done, and there's people that sometimes you have a built-in expectation will have a certain support, but I think your disease has an impact on other people and that it's hard for other people to face, so sometimes you see that kind of reaction too."
With the second diagnosis, Hodson's grandchild has really motivated her to get through it. "I can really focus on the blessing that he is and how lucky I am to be here," Hodson said. In addition, "what is really helpful to me, is that if I'm healthy enough to teach in the classroom, that's very affirming to me. My students give me a good reason to get up in the morning and be here."
Another source of motivation for Hodson to get through this ordeal is "as a Newbury Park High School Alum, I want to walk in graduation with the NPHS Class of 2019, my forty-year anniversary class."
Support from her peers has always been helpful, and Hodson is heartened by that. "Encouraging words from supportive people have formulated a mantra for me that includes the recognition that I developed the 'muscles' to cope with this diagnosis nine years earlier," Hodson said. "Fellow breast cancer survivor, former NPHS Principal Athol Wong, hopes I 'make history.'"
Hodson emphasizes the importance of support when going through the process of treatment for cancer, and she has found a support group in Westlake that has really helped her through the difficult times. "I met people with multiple diagnoses, and I found that really helpful because it's important not to go inside and isolate yourself and cut yourself off from other people when you get something that's really shocking, like a cancer diagnosis," Hodson said. "It would be easy to just kind of close up into your own world, (but) it's so important to go outside and connect with other people."
Marilyn Fuentes, another breast cancer survivor who went to the Fund-a-Mammogram event on Oct. 17, also went to this support group when she was going through treatment. "(It's) a huge support for women, anyone in the community, but with more than just breast cancer," Fuentes said. "They teach you about your diet, different things that you should do to adjust and a lot of it is emotional. They get you through that part of it as well."
Talking has been a major help to both Hodson and Fuentes with getting through the treatments. "I also made some really good decisions about my treatment, initially, when I was first diagnosed, by talking to other women who were breast cancer survivors," Hodson said. "And they gave me advice that couldn't have come any other way. It was from their own personal experience. So I think staying connected and staying in communication with other people and recognizing you're not the only person who's going through this is tremendously helpful."
A diagnosis for breast cancer always comes as a shock. "This is something that you read in the paper, it might be someone that knows someone. Then it gets closer, where it's someone you know, then it's a family member, then it was like, it's me," Fuentes said. "So it's a trip to go through emotionally with that."
Fuentes advises women to "get their mammograms, do them regularly. Anytime you feel anything, no matter how small or little, address it. Don't just slough it to the side. And seek support.
Along with that, Hodson also advises people going through the experience to "do your best not to give up hope in the situation. When I got the first diagnosis, I thought to myself, "'I'm so lucky that all this medical treatment is available to me'… it's the biggest challenge not to give up hope, but if you have given up hope, then you've lost everything."
Hodson has been a strong advocate for spreading awareness about breast cancer. She is the adviser for American Cancer Society and has participated in Dance for Hope. "I was able to dance on stage as a cancer survivor with my Hula Halau, and that's part of the fundraising and awareness for raising money for cancer research. I think it is one of the most important things we could possibly do."
Hodson is also trying to keep up a healthy lifestyle "with exercise and diet and activity that makes me feel like I'm living — makes me feel like I'm living a good life."
One of the things that Hodson would advise people who know someone who is going through cancer treatment to do is to treat them as a person and not an illness. "I think I speak appropriately on behalf of anybody who is in the position of suffering from a disease that it really helps to be treated as normally as possible. Because you do see a shift sometimes in people's comfort ability in dealing with you," Hodson said. "When I came back after treatment from my first diagnosis, the people who treated me the most normally, even though you could look at me and see that I had been through some kind of treatment, were my students. And that's probably some of the greatest medicine, to think, 'ok I have this, but I'm still moving, and I'm still going to work and enjoying life,' and that's some of the best medicine you could possibly have."
Staying Aware
Throughout the years there have been an increase in resources and forms of support that the community provides for breast cancer victims. From clubs on campus to non-profit organizations in the community, people now have many ways to help and seek help. Breast cancer is one of the most common cancers, which makes it one of the many people should always stay aware of.
American Cancer Society (ACS)  is a club that mainly fundraises money for cancer-related research and organizations. This year ACS is planning more outreach events and presentations to help spread more information about cancer.  
"I think that with everything that we are doing with the American Cancer Society — fundraising and spreading awareness and participating in these outreach events — we're just trying to build a community that is standing up against cancer and trying to do everything they can to minimize its negative effects," Kaira Samuel, club president, said.
As ACS is continuing with their fundraisers and events, the Conejo Free Clinic is also putting in their efforts to spread awareness about breast cancer.
The Conejo Free Clinic is a non-profit organization that, according to their website, helps people "without medical and legal access in the community." All the doctors and staff are volunteers who donate their time to help patients in need.
The clinic provides free mammograms for women in need with no questions asked. According to Cindi Cockrill, one of the volunteers at Conejo Free Clinic, the clinic provides around 800 to 900 free mammograms per year, and almost every year they find patients who have breast cancer that could have went undetected.
"What the Conejo Free Clinic does is they walk (patients) through the process, so if they're needing to get chemotherapy or a mastectomy, the clinic will help them through the whole process," Cockrill said.  
Lisa Osborn is also a volunteer from the Conejo Free Clinic. She and Cockrill organize an annual breast cancer awareness fundraiser event, Fund-a-Mammogram, where people gather to enjoy a fun evening together and raise money for the cause. The money raised goes to the clinic to help provide free mammograms. Each mammogram costs $35, and this  year, the Fund-a-Mammogram event raised $3994.
By organizing this event, Osborn and Cockrill hope to spread the message about the importance of annual breast check-ups to the community, especially to high school students.
"In young women, when they get breast cancer it's more aggressive. If they have a history of breast cancer in their families they need to talk to their doctors and get on some kind of plan to be checking themselves on a regular basis. Coming up with a comprehensive plan that can save their lives when handled correctly," Osborn said.
According to the National Breast Cancer Foundation, "forty percent of diagnosed breast cancers are detected by women who feel a lump." It's important for people to know the symptoms and how to check for diseases such as breast cancer. This information can play a critical role in saving their lives.
Although screenings are an effective method of detecting breast cancers, it can still be subjected to errors. In addition to annual mammograms, routined self examination increases the chances of detecting breast cancer early.
"I think we have an expectation for science that it should be absolutely definitive, that through a test it should be able to tell us, this is your situation, or this is your status. I don't think it's fair to expect science or medicine to be infallible," Hodson said.