Building up to the state competition: Robotics Team qualifies for next level of VEX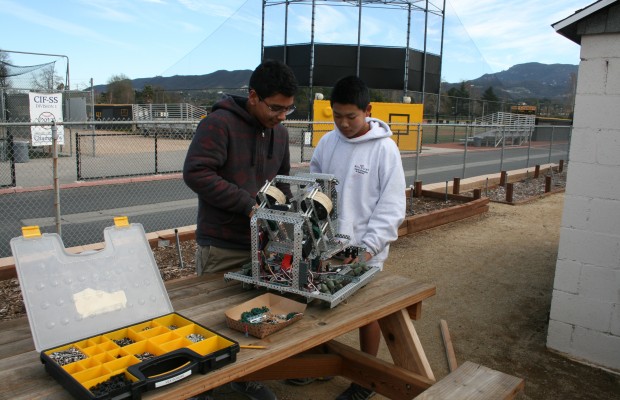 After an increase in membership and learning opportunities, the robotics team competed in and won a VEX Robotics Competition on Dec. 22, 2015. These competitions require students to use science, technology, engineering, and math in order to build a robot that will complete a designated task.
This year, the team has grown in number of members. "We had a lot more people who were consistently (at meetings)," Joshua Freedman, senior and co-president of the Robotics club, said.
Aaron Sang, freshman, agreed. "There's definitely been new people that also bring new ideas into the team," Sang said.
Because of the club's growth, two teams were able to participate in the most recent VEX tournament: a freshman team and a senior team. According to Jason Fowler, junior, having smaller teams is more convenient for working on the small robots that the teams take to VEX  competitions.
  Although coordination between the two teams can be a challenge, Fowler believes the arrangement is beneficial. "It allows the freshmen as well as the senior members to go along with different strategies and different design," Fowler said. Dividing the teams allows for the senior team to create more challenging robots, while the freshmen take the opportunity to learn the basics of robotics.
The robotics team has also been able to go to more competitions this school year than in the past.  By attending multiple competitions, they have been able to assess their progress and make improvements along the way, growing closer to winning at each competition.
"It just makes our robots far more reliable," Fowler said.
At the competition on Dec. 22, the teams joined an 'alliance' with two other teams. By creating an alliance, the teams are able to be scored together and can build robots using different tactics and strategies that compliment one another.
"The scoring was … based on not only the task but how well we worked with other people," Freedman said.
The students worked for the majority of the day, balancing both teams with minimal time between one team's turn and another. The senior team won the semifinals and the freshman team won the finals of the regional competition.
"We did not expect it, but we kind of joked about it … the freshman team always gets farther than all the other teams," Fowler said.
With the victory, the team earned one spot in the state competition. The club now faces the choice of which robot to send forward to compete and show all that the team has learned this year.