Cameo Carolan: More than just a dance coach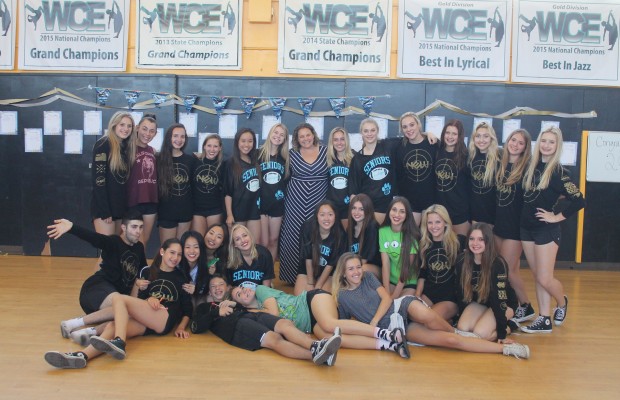 After a nationally award winning last season, head dance coach Cameo Carolan is stepping down.
Carolan started her career here over a decade ago in 2004 with a team that was "nervous about getting booed by the audience … and embarrassed to go back to class," according to Carolan. Since then, dance team has greatly improved by setting small goals each year to move up in competitive ranks.
"She is one special person because she has sacrificed so much in her career as the dance coach to (get) the dance team (to) the level it is today," said Maddy Fischer, senior.
At the beginning of this school year, Carolan and the dance team set a goal: to become grand national champions of the WCE and USA competitions. At first, the team was not sure this goal could become a reality, according to Fischer, but the team came home with both titles. "It definitely would not have been possible without (Carolan's) help," said Shelby Rini, senior and dance team co-captain.
"The thing I'm most proud of is every year we set a goal to get better, and every year we have reached that goal. This is the reason I came to Newbury Park," Carolan said.
Along the way, Carolan has not only impacted students' dancing lives but their personal lives as well. "Cameo is seriously like my second mom,"  said Sabrina Parker, senior and dance team co-captain, who has been close with Carolan since her freshman year. "I have never met such an inspiring, humble, and dedicated woman in my life. She doesn't give herself enough credit at all. I wouldn't be where I am today if it weren't for her. We all are going to miss her a lot."
"Cameo is always there for us whether it's for corrections, formations, counts, or even as a mom," added Rini. "She constantly takes care of us as if we're her own and it's really nice to have her support 100% of the time no matter what."
According to Carolan, one of the main reasons she will no longer be coaching the dance team is because she wants to make her children more of a priority in her life. "I would never want to stop coaching," said Carolan. "I looked at our (dance team) kids and the reason they are so successful is that they have a strong support system. It really made me assess my kids and how much more I could be doing in their lives."
Carolan will continue to teach the beginning to IB dance courses offered at school, but will focus on other areas such as working in the school's new Writing Center, helping students meet alumni in colleges, and spending more time with her family.
"(Coaching dance team) is a lot more hours than anyone ever knows. Not coaching is giving me the time to do different opportunities I have been wanting to do,"said Carolan
Next year, Katelyn Miller, previous assistant dance coach at Westlake High School,  will replace Carolan as the new head coach. The team will also have new assistant coaches. Miller, who is the "perfect candidate", according to Carolan, has already met the new 2015-2016 dance team at auditions.
"She seems really sweet,"  Parker said. "I've heard nothing but good things. She already seems very dedicated and I'm excited to see what she does with the team this year."
Carolan still plans to visit dance team occasionally during practices and competitions next year. She also intends to continue to use her experience as the dance coach to help her dance class students improve their skills enough to be on the team.
"I'm going to miss being able to work with the students … and watching them grow and being a part of their lives," Carolan said.