Camille Lee rises to TikTok fame
By Reese Kelem on September 20, 2019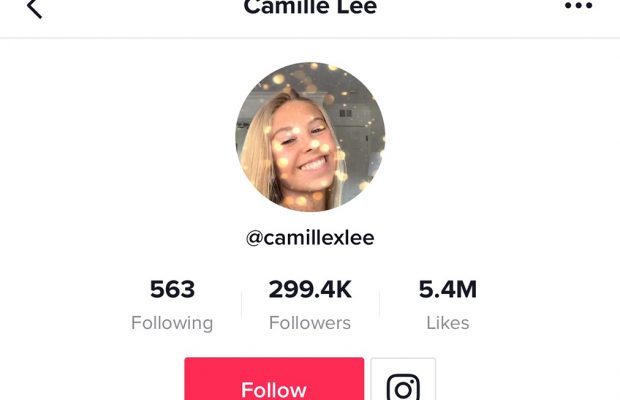 Over the summer, many students at NPHS gained new hobbies. Camille Lee, senior, spent her time becoming famous on Tiktok, a social media app where people can make music video clips and share them with the public. Also known as @camillexlee, Lee participates frequently on TikTok and has recently become extremely popular. She has been creating these videos since February and currently has 295,700 followers and 5.2 million likes.
Lee said she initially became popular with "the TikTok I created with Jake Lidman, who goes to Thousand Oaks High School, who was TikTok famous before me, so I basically used his clout and then I got big." 
Lidman, @goopgiver12, currently has 48,800 followers and 374,000 hearts and features Lee in several of his videos. The video that skyrocketed Lee's career, with 29,800 likes, uses the song "Mama I'm a Big Girl Now" by Maddie Baillio and it includes Lidman among her other friends. 
Lee's fame has greatly affected her as well as her friends and family. Some close to her were confused at first in regards to the app but still supported her. Kalyna Lewis, sophomore, is a close friend of Lee and said, "At football games, kids will come up and tell her they've seen her on TikTok and get a picture." 
Lee also thought that it was a bit weird at first. "I was like all these little girls and little boys are like obsessing over me but it's whatever," Lee said. 
Despite Lee's popularity, "Camille is still super humble and doesn't brag about anything now and as a person she hasn't changed," Lewis said. Becca Romain, sophomore and another friend of Lee, said that Lee has had a very positive impact on the TikTok community. 
"I've never seen her post anything negative" Romain said.
When Lee returned to school in August, her popularity on the app led to people calling her "the TikTok girl." Lee comes up on the "For You Page" quite often, or the section of the app that suggests videos for viewers. Romain says  she has watched Lee's videos about two or three times since she has downloaded the app during summer. 
"I wasn't surprised because I knew she had a lot of followers, but it was exciting to see someone I knew," Romain said. Lewis says  she sees Lee's videos frequently and that they have had a positive impact.
"She makes me laugh," Lewis commented.
Lee's videos are commonly seen and much enjoyed by the public media. Lee continues to make videos and remains popular on this rising social media app. 
You may also like...
The Panther Prowler

The Panther Prowler is the official publication of Newbury Park High School, created and produced by Advanced Journalism students. The Panther Prowler is published every three weeks throughout the school year. Guest letters to the editor are welcome but must be signed.

Twitter

Instagram

This error message is only visible to WordPress admins

Error: The account for needs to be reconnected.
Due to recent Instagram platform changes this Instagram account needs to be reconnected in order to continue updating. Reconnect on plugin Settings page

Error: admin-ajax.php test was not successful. Some features may not be available.

Please visit this page to troubleshoot.
Copyright © 2014 Panther Prowler.