Celebrities, Comedy, Controversy- The Oscars had it all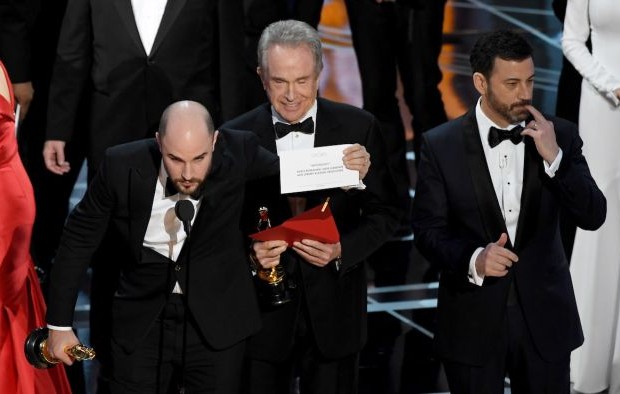 A shocked silence covered the audience like a blanket. For nearly 30 seconds, America held its breath in unison. Could this actually be happening right now? "This is not a joke. Moonlight has won best picture," La La Land producer Jordan Horowitz asserted as he held up the winning card to the audience that read Moonlight. In the middle of his acceptance speech, Horowitz and others were notified of what is now being dubbed, "The Greatest Blunder in Oscars History". Out of approximately 1760 awards handed out in the 89 years the show has been running, this was the first time the Academy had ever misread any category winner, let alone the "Best Picture" winner. It was the equivalent of Tom Brady snatching the Lombardi Trophy from Matt Ryan while the city of Atlanta was beginning to plan parade processions.
Unless you have been living under a rock or have never heard of Twitter, you will know that last night, a backstage mishap shook up Hollywood, as the romantic musical that stole everyone's hearts, La La Land was incorrectly announced as the winner of "Best Picture" when in reality, Moonlight, the most important story told in 2016, took home the award. The mistake robbed both films of their moment as the La La Land cast and crew were left hanging in the middle of their speeches while Barry Jenkins and the Moonlight crew were left to speak to a stunned audience. The moment Horowitz and the La La Land crew handed over their awards and embraced those from Moonlight will be remembered for decades to come as the imagery and message of positivity that it held was remedic for the divided country we live in now. It reflected a huge step forward for the Academy amid its allegations of racism and lack of diverse representation.
Nevertheless, we should not only remember the 2017 Oscars for the final controversy as in reality, the show was much more entertaining than any in recent years. La La Land still won 6 other awards, including Emma Stone for "Best Actress in a Leading Role" and Damien Chazelle, 32, for "Best Director". Moonlight also claimed noteworthy awards including Jenkins for "Best Adapted Screenplay" and Mahershala Ali for "Best Actor in a Supporting Role," making Ali the first Muslim to ever win an Academy award. In fact, one of the most entertaining aspects about last night was that we never knew what to expect. All of the "Best Picture" nominees got their equal recognition, and deservedly so, as Arrival, Hacksaw Ridge, Fences, and Manchester By the Sea all took home awards of their own, making "Best Picture" a toss-up. For "Best Actress in a Supporting Role", Viola Davis won for her emotional role alongside Denzel Washington in Fences, and proceeded to give a fiery, inspirational speech to the packed Dolby Theatre audience about actors being "gravediggers". "You know, there is one place that all the people with the greatest potential are gathered and that's the graveyard…And I say exhume those bodies. Exhume those stories — the stories of the people who dreamed big and never saw those dreams to fruition, people who fell in love and lost," a teary-eyed Davis remarked. It was a beautiful moment that had everyone in the audience on the verge of tears, and will be one of the speeches played in the future video monologues.
One of the upsets of the night came in the "Best Actor in a Leading Role" category as Manchester By the Sea star Casey Affleck triumphed over the heavily-favored Denzel Washington. Though definitely unexpected, Affleck did deliver a heartfelt performance in a character-driven movie and deserved the award. There was some tension, however, as actress Brie Larson, a sexual assault activist, refused to applaud Affleck amid his two allegations of sexual assault after presenting him with the award.
The show started off on a happy note as Justin Timberlake electrified the crowd with his chart-topper "Can't Stop the Feeling," setting the tone for what was to be a joyful celebration of film. Throughout the night, nominations for "Best Original Song" were performed by show-stopping guests John Legend, Lin-Manuel Miranda, Sting, and Auli'i Cravalho from Moana. In the end, it was Ryan Gosling and Emma Stone's duet of "City of Stars" that took the crown.
Of course, one cannot talk about the Oscars without mentioning its host. In 2017, the honors went to late-night comedian and self-proclaimed "American treasure," Jimmy Kimmel. Kimmel was hilarious in his delivery, his segments never dragging and him seeming to do everything spontaneously as if in a stand-up show. There were plenty of jabs at Trump to be found and rightfully so, after his Twitter attacks on such acclaimed figures as Meryl Streep, yet the politics never overshadowed the actual festivities. Kimmel even brought in a group of unaware Hollywood tourists into the building to meet all of their favorite stars. From running jokes such as his feud with Matt Damon, now known as "Guest", to calling Streep "overrated" to literally dropping candy and donuts to the audience in parachutes, Kimmel kept the show original and fresh. For me, Kimmel was the best host the Oscars have seen in at least the last 5 years, if not more. Remember James Franco and Anne Hathaway?
Overall, the 2017 Oscars were exactly what they were supposed to be: a celebration of Hollywood. Glorifying Hollywood's music, politics and most importantly, its films, this year's Oscars was the awards show that we needed and one that will be remembered a decade from now not only for its controversy but for its sheer entertainment value.