Choir Concert Review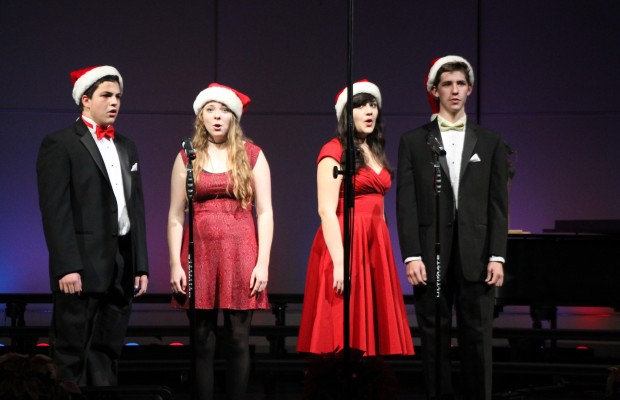 The Newbury Park High School Choir Department performed on Dec. 17, 18, and 19, in a winter concert featuring the Chamber Singers, Women's Ensemble, Men's Choir, Concert Choir, as well as a plethora of individual and group performances. Our school's choir has a reputation of being above average in their talent, and at their winter concert, they lived up to the hype.
As expected for a winter concert, there were many Christmas songs. However, for the most part the song selections were not what one would expect; choir strayed away from the jolly classics that blare through department stores, and instead moved more toward what one would expect from attending a midnight mass.
Many of the songs focused on deeply religious themes, with lyrics occasionally bordering on creepy, such as, "And I will be Mother Mary / With a blessing in my soul / And the future of the world inside of me." Now, I love the mention of a dead lady's uterus as much as the next girl, but this particular song was a bit much for me.
Aside from the Jesus-centric theme of the night, the songs were objectively beautiful. would listen to the incomprehensible caroling of the choir singers as the background music to my entire December, even those which were sung in what I am almost certain was not English.
The night also included a large number of student features in groupings that ranged from solos to quintets (that's the word for a group of five singers – I had to look it up). One that stood out was a duet by juniors Patrick Shipper and Camila Wise, in which they sang "Happy Xmas" accompanied by Shipper on the acoustic guitar. The transition from the uniform piano accompaniment throughout the night to the acoustic guitar gave their performance an overall warm feeling that melted the ice that encased me in the freezing Performing Arts Center. Shipper's charismatic performance and guitar talent combined with Wise's angelic voice made this particular duet shine in an already bright and talented group of singers.
Overall, if choir were to put an album out of their winter concert music, I would actually pay to download 20 out of the 27 songs they performed off of iTunes. The concert was definitely worth $10 to help send our choir to Seattle to represent Newbury Park High School in this year's Heritage Festival.