"Coffee Prince" lives up to its royal title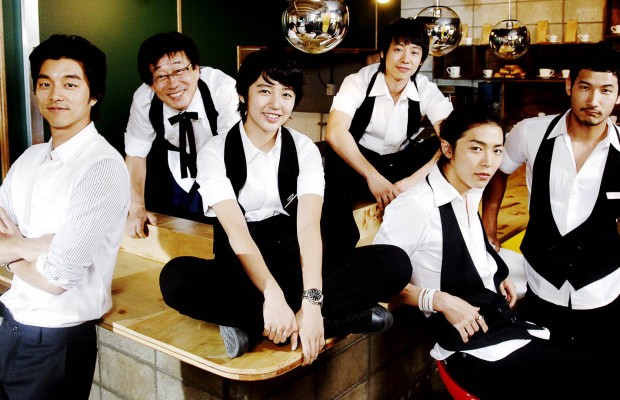 If the producers of typical Korean dramas competed on a cooking show, I'm pretty sure that the judges would become addicted to the numerous meals prepared from the same key ingredients — wealthy men, poor but angelic girls, love triangles (or quadrilaterals), and whirling plot twists. While some of these meals are a bit too fluffy and others explode with excessive emotions, The 1st Shop of Coffee Prince has just the right combination of that amorous sugar, realistic salt and humorous spice mixed in to make it a seconds-deserving dish. With just 17 hour-long episodes, this drama took me less than two weeks to finish and left me with a tingling, warm feeling as if I'd just finished a mocha latte on a cold rainy morning.
"Coffee Prince" follows the plight of tomboy Go Eun-chan (Yoon Eun-hye), a poor girl in her early twenties who tackles a variety of jobs to earn money for her family. In order to qualify for a better-paying job as a waiter at the "Coffee Prince" coffee shop, where only male workers are permitted, she pretends to be a young man. Things are going fine as she befriends her coworkers and brings home more dough, but it wouldn't be called a "drama" if things never went downhill: She simultaneously falls in love with Choi Han-sung (Lee Sun-kyung), a successful but humble music producer, and his cousin/her coffee shop boss, Choi Han-kyul (Gong Yoo), a handsome and tempestuous loner. As the plot thickens, Eun-chan scrambles to prevent her life from unraveling. Who will she choose? When will she reveal her true identity to her colleagues? How does her crossdressing further tangle this web of love?
Shot in Seoul, Korea in 2007 (but available with English subtitles), "Coffee Prince" lacks the advanced cinematography of more recent films; however, this basic cinematography and the occasional cute animations add rather than subtract from the show. Without luxurious settings like dazzling mansions and sleek furniture, the plain coffee shop and city houses are relatable to everyday audiences, as if the story could easily happen in a coffee shop a few blocks away. However, the absence of any catchy soundtracks for me to pretend to sing along to by using my five-word Korean vocabulary was a real cringe-worthy bummer.
Thankfully, the actors' performances more than make up for the lackluster music. Eun-hye skillfully portrays the clash between Eun-chan's boyish pride and her more sensitive tenderness: Without lots of makeup and pretty outfits, she uses subtle variations in the angle of her eyes and the fluctuations in her voice to illustrate her wavering feelings. Through her performance, the internal conflicts within Eun-chan pull and tug on the heartstrings of the audience. On the other hand, her co-star Gong Yoo is able to deliver Han-kyul's playful demeanor while still depicting his serious emotional struggles. He is usually a mature businessman, but on occasion he also reveals that boyish, soft side that captures the audience's fancy. Furthermore, through everything from big blowouts to cuddly moments, the main characters' onscreen chemistry spills over and generates many "I do that too!" moments.
"Coffee Prince" brings a breath of fresh air to the stuffy world of Korean television in its identifiable characters and circumstances of normal life, so much so that it received top ratings and won the 2007 Korean Drama Festival's Best Actor awards. Although the plot gets slow and the script becomes repetitive towards the middle of the series, it's still not your ordinary predictable Asian drama with glitzy personas, over-the-top romances and exotic locations. If you're looking for something new to mix up with your daily dose of American detective fictions, political dramas or cliquey cat fights, I'd highly recommend giving Korean dramas, and "Coffee Prince" in particular, a shot. You won't be disappointed, and you'll never look at the baristas at Starbucks in the same way again.
Picture copyright of Munhwa Broadcasting Company.