College bound students strive for excellence on and off the field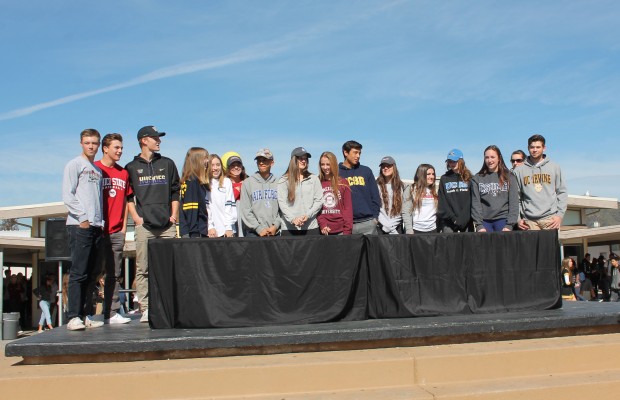 Fourteen athletes stood on the stage in the quad and announced where they were going to college this Wednesday, Feb. 1. Everyone watched as these top athletes accepted offers to their dream colleges on National Signing Day.
Twins Madison and Skyler Wood, seniors, committed to University of California (UC), Davis for golf.
"I absolutely loved the campus and what the school had to offer for student athletes, and I also spent a lot of time with the women's golf coach and felt like I could really fit in with the golf program they had there," Madison said.
The boys and girls varsity soccer teams brought in many college offers this year. Tara McKeown, senior, committed to University of Southern California, Kate Manzione, senior, signed to The Citadel, and Alissa Greenblatt, senior chose New Mexico State. Chandler Schioppi, senior, committed to Southern Oregon and Julianne Oswald, senior, signed to Arcadia University. Isaiah Garza will be attending Air Force Academy, Jennifer Grossman California State University, Monterey Bay and Freddy Kleemann University of Washington.
Tabitha Dyer, senior and a softball player, committed to the University of Pennsylvania. Cole Falksen, Zach Nissim, Braden Ashmore and Shay Whitcomb, seniors, committed this year as well. Nissim and Falksen committed to California State University, Chico, Whitcomb to UC San Diego and Ashmore to UC Irvine.
"I chose Chico because of the baseball program Coach Taylor runs up there," said Falksen. "I also liked the college atmosphere when I went up to visit. Right after I visited the school I knew it could be my home for the next four years."
Marquese Evans, the only football player on the stage, committed to Boise State University.
Nicole Burch, senior and runner for the girl's cross country team, committed to UC Santa Barbara.
"When I committed I was so happy, words can't even describe. I was so anxious and nervous before, then I just called the coach up and told him I wanted to verbally commit now and that was about it… I called the day after my official. I was jumping up and down and couldn't stop saying how happy I was after the call," Burch said.
Congratulations to these seniors who worked hard academically and athletically to achieve this milestone in their careers.