Colleges reward athletes' hard work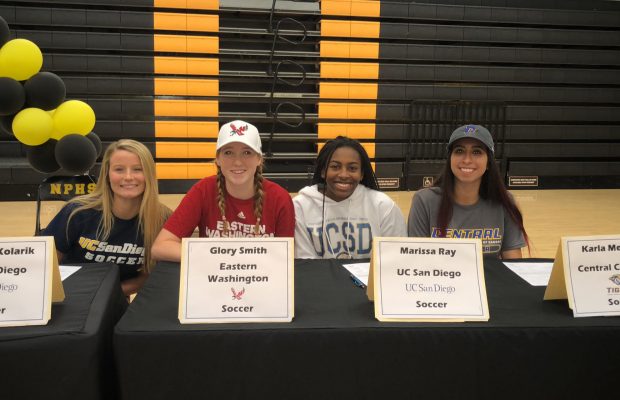 It was crowded in the gym on Feb. 7, with over 20 athletes sitting at long tables and over a hundred people surrounding them. That afternoon however, there were no basketball, volleyball or wrestling matches– this was a celebration of the culmination of years of athletic struggle. These athletes no longer were just NPHS players; they now represent colleges across the country, made official by Signing Day.
Playing soccer for ten years, Marissa Ray, senior, felt it was natural to play in college, and was happy that her dream came true.
"I'm just super excited because playing college soccer is everything I've ever worked for and I finally made it," Ray said.
Attending University of California San Diego (UCSD) in the fall, Ray always knew she wanted to go to school in San Diego; it was just a matter of which school.
"In soccer, the best teams and tournaments are always down in San Diego and I knew since I was a little girl that I wanted to live down there," Ray said. "So when I got into high school I emailed all of the San Diego schools and went on visits to every school, but UCSD was my favorite."
Holly Maine, senior, is also going to UCSD, her dream school, recruited for crew rowing.
"It was an easy decision. The school is beautiful and sits on the bluffs of La Jolla and since I love the ocean it seems like the perfect place for me," Maine said.
As a twelve-time national champion in junior lifeguard competition events, Maine believes it was her six year career as a junior lifeguard that got her the spot at UCSD. While she also plays water polo and is on the swim team, she is going to be on the crew team in the fall.
"My story is a little unique here… I was recruited as a non-rower so basically I had never rowed before but they recruited me because of my achievements in water polo, swimming, and junior lifeguards," Maine said. "I decided not to play water polo in college because of the aggression of the sport."
Maine says she is nervous to start crew rowing, since she has never done it before, but many of the other athletes that signed were also nervous to play at the collegiate level, including Luke Hetherington, senior and volleyball player. Committed to Concordia University, Hetherington thinks it is the perfect place for him, and despite his nerves, is eager to start playing.
"(Concordia offers) everything I want academically and I love the program they have there," Hetherington said. "I'm excited to play at the highest level I can and I want to improve as much as possible."
For some of the athletes at Signing Day, they had been waiting for this day since their first day in high school, while others more recently carved their path to playing sports in college. Hetherington liked learning about where other students' journeys, remembering that as his favorite part.
"Signing day was fun. It was cool to see where the other athletes in the class were headed," Hetherington said.
After playing volleyball for the past three years, Hetherington believes he is ready for the next level, like many that adorned in their college gear in the gym that afternoon.
"I think it would be crazy not to be (nervous)," Hetherington said. "Everything just gets harder but I am excited to face that challenge."