Community is everything: Arts department comes together in support of theater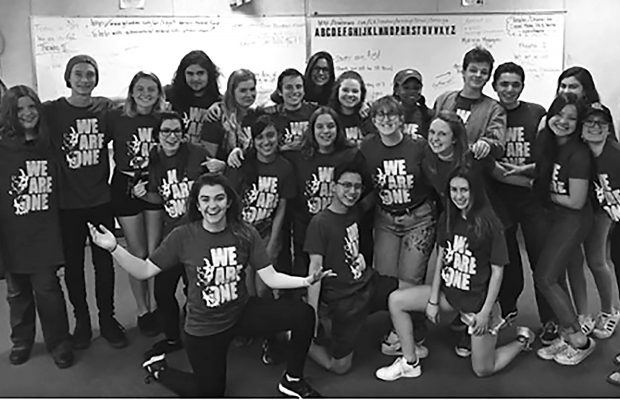 In times of need, students, staff and the NPHS community band together to support one another. On March 16, Marilyn Strange, theater teacher, lost her husband to liver disease and her students were quick to form a support system for her.
The support that Strange received from the NPHS community through the weeks after the tragedy helped her through the difficult time.
"The Panther family has supported me throughout the whole awful experience- from beginning to end. Just the support I started to get when Mr. Strange was in the hospital, and it continues even now when I return to school," Strange said.
"After we heard the news, Cameo and I began to work on what we could do right away," Emily Goldstein, senior, said. Working together with the drama club cabinet and dance teacher Cameo Caroline, Goldstein came up with a design for a t-shirt to sell at upcoming arts events, with the proceeds being donated to Strange.
For the following weeks, students could be found in the halls wearing these shirts in support of Strange. The back of the t-shirts were adorned with the phrase "community is everything."
"That phrase is one that Ms. Strange begins every show or theatre class with," Goldstein said. "She always stresses how important it is for actors and techs to be there for each other, and how important the arts community is. If you're close with her, you know it's her motto, so it felt natural to put (it) on the shirts."
The t-shirt fundraiser was a success, with over 100 preorders. The arts community joined together, selling the t-shirts at the IB dance concert, student-directed One Acts, and the 18 Hour theater festival. In addition to selling t-shirts, the drama club, with the help of booster parents, organized restaurant fundraisers to help Strange.
"All the booster moms have been working really hard. For example, 18 Hour, all the funds were donated to Strange because the booster moms made it possible," Kylie Vincent, junior, said. "(Strange) was like our mom at the theatre department, and obviously, having her gone, when she's hurting, we hurt too." Vincent ran the 18 Hour Theater Festival, with all of the proceeds from the event going to Strange.
Strange is grateful for all of the support she received in the past few months.
"To go through such a difficult tragedy that this has been, it has been overwhelming- the support the Panther family has given to me and my family. Just the fact of them putting it together has meant so much to me during this difficult time," Strange said.
There is currently a GoFundMe page, started by the Strange family, that anyone can donate to. As Strange recovers, she must handle the expenses of her husband's medical bills, as well as supporting her two-year-old son, which means taking time off of work.
"We support each other at NPHS, and we are such a giving community," Goldstein said. "Donate to help a panther in need."