Competitive wrestling brings athletes together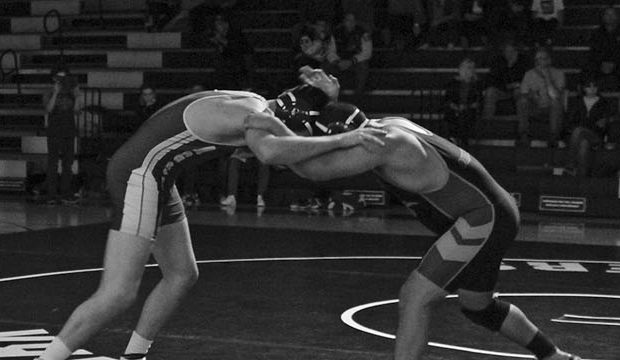 Everyday after school the close-knit high school wrestling team meets in the athletics room to bond as a team and take their game to the next level.
Kevin Kilbane, sophomore, has been wrestling since the beginning of freshmen year and is now wrestling successfully at the varsity level.
"My dad is the head coach and I thought it would be interesting," Kilbane said. "He introduced me to the sport and when I started getting into it turned out to be really fun."
Kilbane has been successful so far this season, out of eight tournaments so far, he has managed to place at every single one. He has placed second several times and fifth once.
"The competitiveness of the sport makes it really fun. Succeeding at tournaments after putting in so much work feels really good. Practices are hard but doing good during season is a great feeling," Kilbane said.
Aidan Hansmeier, freshman, joined the team this year when he was introduced to some of the members of the team at Future Panther Night during the spring of his eighth grade year.
"My cousin wrestled, so I already knew I wanted to do it. When I went to Future Panther Night last year, I met some guys and it seemed like a lot of fun," Hansmeier said, "They just asked me, 'Do you want to wrestle?"
Hansmeier plans to wrestle throughout high school with the wrestling team. Going into high school, he had been playing baseball his entire life, but, after being recruited his freshmen year, his goals completely changed and decided not the play high school baseball.
Raaghuv Sompura, sophomore, is a triple threat athlete who played frosh water polo, varsity swim and wrestled this past season.
"What introduced me to the sport was my freshman year, the varsity wrestlers grabbed me out of the crowd and asked if I wanted a cookie. I stuck my hand out to grab it but they said they would only give it to me if I tried wrestling so I gave it a try," Sompura said.
He has been wrestling for the past two years but recently injured his shoulder which hindered his ability to wrestle in the past few tournaments, but he has still helped coach his teammates.
"We practice every day for around two to three hours during season. Practices can get pretty hard sometimes, but you always keep going. It's a super rewarding sport, you learn to be discipline, you get in shape and build endurance and stamina," Hansmeier said. "I'm really glad I chose to wrestle."
According to Hansmeier, several of his teammates share the same feeling and feel as though wrestling has brought them closer together.
"We are a big family and I'm not as close with my teammates in any other sport I have participated in," Sompura said. "The wrestling team is really close with each other, we are like brothers and our coaches like our fathers."