Continuing a winning tradition: Dance team starts fresh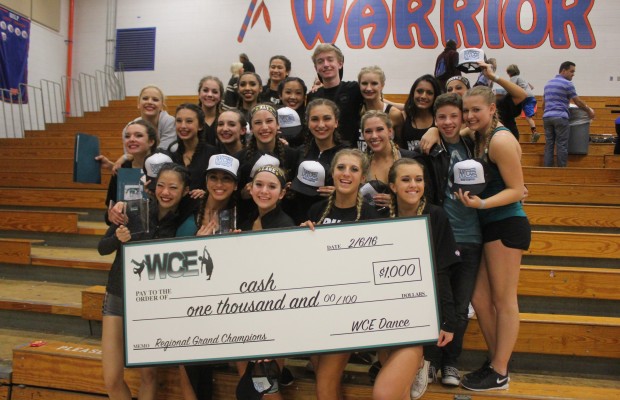 After a win at nationals last year, the dance team has been revamped with new coaches, dancers, and routines. The loss of last years coaches has led the team to adjust and keep the strength of the program alive. The turnover has taken time, but the dance team is now back to winning competitions, including their first place grand champions win at West Coast Elite dance competition in Westlake on Feb. 6.
This year's dance team has all new coaches: Katelyn Miller, the director, Jessica Steinkamp, and Amanda Kolodney. Junior Bella Murphree has been on the team since freshman year and believes that the coaches are beneficial to the program. "They just brought what we needed, a lot of positive energy this year," Murphree said.
Being new coaches after a championship year, the team had a slow start. "It's been hard, but our old coaches still talk to us and our new coaches are very welcoming and super, super positive," Murphree said.
Director Katelyn Miller, who is also a math teacher at Newbury Park High School, recently began to coach the Dance Team after dancing and coaching at Westlake.
Miller believes being a dancer helps her connect to the team. "I was on dance team in high school and it was the best experience. My goal is to create memories for these kids just like I had back in high school," Miller said.
The dance team has a diverse dynamic, and is filled with many upper classmen and some underclassmen. The underclassmen shine in their routines and dances. "I think this the most talented freshman group we've had since the three years after I've been on team," Murphree said.
The team's recent win at West Coast Elite dance tournament at Westlake gave the team some much needed confidence and perseverance for the tournaments to come, including nationals.
"(Nationals) is one of our goals, but it's definitely not our main goal. Our main goal is: in whatever we do and whatever we achieve, we're always a team," Amy Fang, senior, said.