CVUSD students see the world with teachers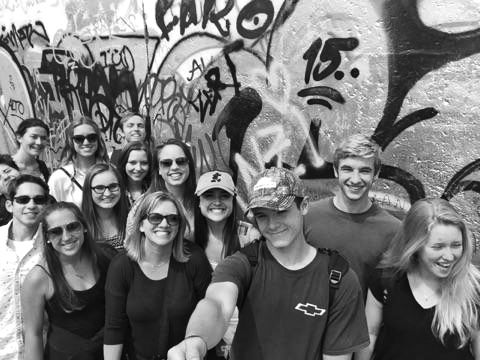 This past summer, students from the Conejo Valley Unified School District (CVUSD) accompanied NPHS English teacher Vanessa Denchfield and History teacher Tiffani Coull to several destinations in Europe, including Munich, Berlin, Krakow, Prague, Budapest, Vienna, and Slovakia.
Traveling with the EF Educational Tours organization to Berlin and then to Krakow, Denchfield, 25 CVUSD students, and the 4 other advisers witnessed the "new" Berlin atop a Ferris wheel that overlooked the Reichstag building and Tear Garden.
"(There were) cobblestone streets, old buildings, and horses pulling the carriages," Denchfield said. "It was like magic."
After visiting Auschwitz, Birkenau, and Schindler's factory in Krakow, the group hopped on a luxury bus to Prague, Budapest, and Vienna, where Denchfield and her students swam in "mansion-like" pools from the 1700's and witnessed the hustle and bustle of the busy streets.
Ending its "fairytale" in the mountains of Slovakia, the group stayed in a ski lodge and admired the summer flora atop the hills.
"It looked like the Sound of Music," Denchfield said. "The students (were) very enthusiastic and had a lot of energy," Denchfield said.
Although the trip was short-lived, only spanning 12 days, "it felt like 3 months" according to Denchfield.
Coull also traveled to Germany for 10 days this summer, accompanied by a group of 12 students. Traveling to Berlin first, the students toured the city on a boat ride, visiting the Berlin Wall and Saint Point Charlie.
"It was the most amazing experience of my life," Olivia Diliberti, senior, said. "I learned so much and had a great time!"
Getting exposure to history first-hand, Coull and her students walked in the footsteps of captives at the Dachau concentration camp.
"That was intense. Everyone should go to a concentration camp," Coull said. "It was like history there."
From the BMW Group Plant to the bicycle tour, Germany's attractions were both informative and fun for the students and their advisers.
"I had the most fun kids," Coull said. "We're doing Italy this (upcoming) summer."