Dance concert captures hearts and pikachus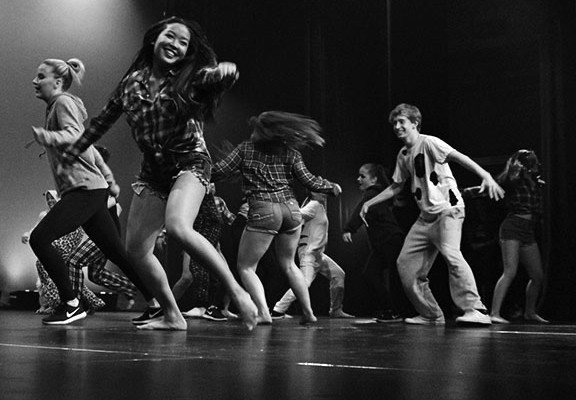 The curtain for DancersGo first opened to reveal two rival Pokemon Teams facing off to find out who was the superior team. After the introductory duel, the dance team, period 2 and 3 dance classes, IB dance, and guest studios gave performances. For the finale, the entire dance department took the stage in a heartwarming and entertaining number highlighting the diversity of the group. Performances for the concert ran from Dec. 8th through the 10th.
"It's not just a dance team show. It's the whole dance department's show," Jessica Jewett, junior, said.
Indeed it was. Dances were performed by the NPHS Dance department and by local dance studios including Thrive Dance Center, Aspire Dance Studio, and Bobbie's School of Performing Arts. Each dance was unique and featured a different type of dance at various difficulty levels. There were lyrical numbers, hip-hop, contemporary and bollywood dances among others.
Each branch of the NPHS dance program put forth numerous hours towards making this concert happen. Olivia Johnson, junior, was selected to choreograph a contemporary piece for IB dance for this concert.
"I started choreographing a few weeks ago and I started teaching the students the Wednesday before we went off (Thanksgiving) break," Johnson said.
"It's less classical than ballet," Johnson said. "It has kicks, it has turns and stuff but it's less structured."
The dance team also put forth countless hours towards putting on the concert. Jewett is one of the four captains of the dance team. Jewett and Rhea Vermani, sophomore and dance team member, described the hard work that they put forth towards the dance concert.
"We started preparing for (the concert) in the summer," Vermani said.
Jewett explained that the team learned the routines to the football game dances over summer break. During the school year, practices continued five days a week with several hours dedicated to each day.  
Vermani and Jewett were two soloists for the Friday night concert. Vermani performed a mix between a contemporary and jazz piece while Jewett showcased a lyrical number.
Vermani noted that the dancers could not be entirely credited for the show's success. "The backstage and the people running the lights are essential to the dance concert," she said.
In the end, the three-day concert was a success. "(The) biggest nights for ticket sales were Friday and Saturday night. The show turned out better than expected!"Jewett said.