Dance group spreads the love for K-pop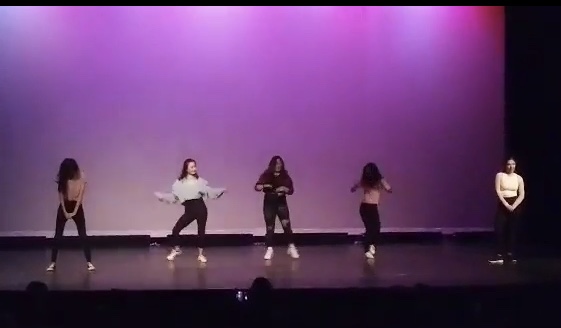 The colorful lights, energetic songs and fast-paced steps of Korean pop have become a favorite for many around the world. This year, a group of students decided to bring the energy of K-pop to NPHS.
The K-pop Dance Crew was formed at the beginning of the school year out of a passion for the music style. This small group of students practices regularly and recently performed at the Winter Dance Concert on Dec. 12.
Nathalie Jimenez, senior, started the K-pop Dance Crew because she felt that one was missing from NPHS. "You see on YouTube, people putting videos about their dance covers or even performing at school rallies. And I wanted to have that even if it was just something small, like five members," Jimenez said. She said that she has been able to find several members that come to practice regularly and are willing to dance. "They were really excited and enthusiastic to help join me complete my dream (in) trying to perform a K-pop dance," Jimenez said.
Nikki Usares, senior, decided to join the K-pop Dance Crew in order to exercise her love for the genre. She states that the preparation that went into the Winter Dance Concert was relatively short. "We were actually told to perform probably like three weeks ago," Usares said. However, this did not create many problems for the group as some of the members had already learned the choreography. "Basically, (it was a matter) of cleaning everything up," Usares said.
Emery Spencer, senior, joined the group to expand on her dance experience and participate on a team with Jimenez. She believes that Jimenez has been integral to the success of the group. "She's amazing. She teaches everything so well… she's really helpful in reminding us of what we're supposed to look like," Spencer said.
Despite last-minute preparations and nerves, Jimenez is pleased with how the performance went. "People were really enthusiastic… I (had) my friends there so they (were) cheering on really loudly," she said.
The group consists of mostly seniors and hopes to expand to other students, especially underclassmen. They plan on reaching out to the Asian Culture Club and the NPHS Dance Team in order to attract more interest. "I know there's a lot of people who also share the same (love) of K-pop… we just can't wait to do more dances this year," Usares said.