Dance program reaches New Heights in winter concert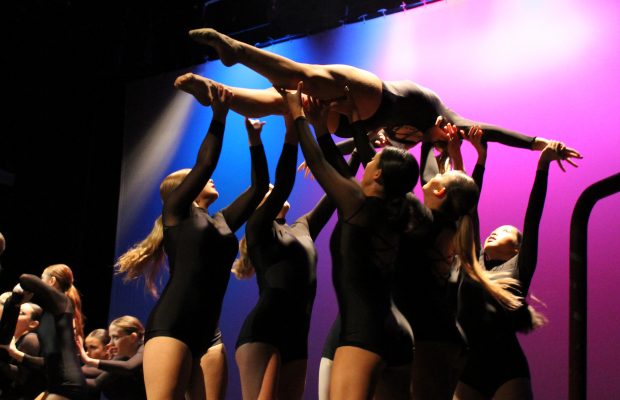 It is that time of year. It is starting to get chilly outside, students are looking forward to their much-needed break and dance students are working harder than ever. It's winter dance concert season.
This year the dance concert was titled "Newbury Heights" and had shows available from Dec. 13 to Dec 15. It will be the last dance performance of 2018, but this year, the dancers decided to make it about more than just dance.
Isabella Braid, senior, has been a part of dance team since her freshman year.
"This year especially was difficult because of the recent tragedies that occurred so we lost two weeks of practice time. I coped with the stress by praying and practicing my dances," Braid said. However, Braid is grateful that she is, "getting to share my final high school moments with all of (her) best friends".
Mursal Mantegheti, senior, took beginning dance class her freshman year and enjoyed the course so much that she decided to retake the class once again this semester. She participated in two dances called 'Haters Show Me Love' and 'Girls Night', the first dance being in the style of hip-hop style and the second being jazz.
"The best part about the winter dance concert was that it was such a happy and friendly environment, also that it was for a good cause," Manteghi said.
At the performance, the dance program was selling orange ribbons for a dollar each to raise money for victims of the recent tragedies.
Ilana Becerra, junior and beginning dance class student, decided to participate in the course due to her love for dance.
"I loved spending time with people that share the same love for dance as I do," Becerra said.
Although it is the last dance concert for many students, this was Becerra's first time performing as a dance student. "I felt both nervous and excited but more excited to dance and see my friends and family come support me and have fun with my other dance friends during the whole concert experience," Becerra said.
Despite all of the chaos surrounding the concert, dancers from all backgrounds whether it be beginning dance classes, dance team, or special guests the experience brings everyone together for a night of fun.
"The atmosphere was very hectic, yet also a super warm environment where everyone is loved and appreciated," Braid said.