Dance Team Starts Competition Season With a Bang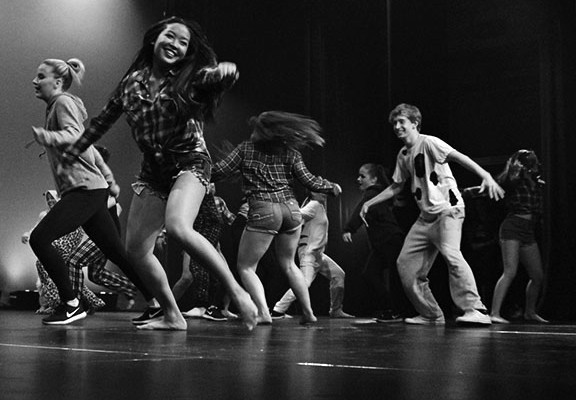 Dance Team Starts Competition Season With a Bang
This past weekend, the NPHS dance team started their competition season by clinching third overall grand champions and placing five soloists in the top 16 out of over 200 competing dancers. The competition took place in San Diego at Rancho Bernardo High School with over 15 schools participating.
Sophomore Isabella Braid speaks highly of her team and their overall third place score.
"One of our dance team freshman, Rachael Anderson, placed second overall for her solo," she says with pride. Braid also mentions the other soloists who were awarded for their outstanding performance: Sami Parker, Jack Mair, Lark Detwailer, and Bella Murphee. Murphee, senior, echoes Braid's proud attitude stating, "We did very well for our first competition.
Placing so well in the first competition of the season served as a big morale boost for the dance team who traditionally performs very well in all their competitions.
As the team enters competition season, Murphee says their success last weekend has altered their mindset going into the next competition on Saturday. "I feel like we are practicing harder than ever before in order to do even better!" she exclaims.
In the past they have received awards yearly at Nationals and placed very highly all their other competitions.
"We had a very strong team two years ago and we won every competition, but then we lost 11 very strong seniors," Jack Mair, junior, says. Mair thinks last year's team was strong but was not able to meet the caliber of the previous year's team.
However both Mair and sophomore, Catie Parker, feel that this year's team has the strength to outperform previous teams.
"We have already started this season stronger than last season and last year we won multiple national championships, so I think we are all hopeful for this season's accomplishments," Parker explains.
Mair continues Parker's line of thought, "I think if we work really hard and work together as a team we could be as strong if not stronger than the team two years ago," he expresses. He feels that dance team owes their newfound strength to individual growth amongst dancers.
Members of the dance team enter the upcoming competitions optimistically, fueled by their strong start.
"I think we have a really strong team this year and I am very excited to see us have another dominating season!" Parker concludes.