DATA brings technology to core classes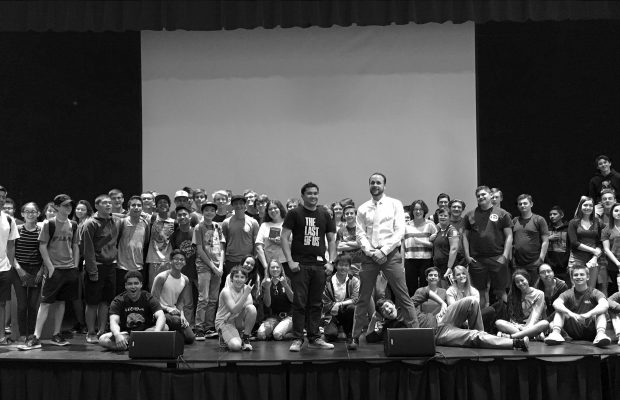 3D printing, robotics and coding: the Digital Arts and Technology Academy (DATA) has it all! Students enrolled in this "school-within-a-school" have access to a variety of technology-based resources and opportunities.
The application process for the DATA academy begins freshman year, when students must submit an essay about themselves and why they feel they would be a good fit for the program.
Andrew Banaszkiewicz, senior and DATA president, applied his freshman year to gain experience in computer programming and web page design courses offered by the academy.
"DATA has provided me so many more opportunities than other classes, such as field trips, access to stuff like 3D printing and robotics, and the preparation for future careers through the required completion of the majors program," Banaszkiewicz said.
Unlike normal scheduling, DATA students have four classes already chosen for them, with two of the classes each semester having the same students, which allows them to form long-lasting friendships.
Robert Martin, DATA coordinator, clarifies the main difference between the program and the typical high school path.
"(Students have the) same core classes but with the same group of students (a cohort). The difference is the sequence of electives focused in technology," he said.
The computer oriented classes include options like programming, web design, AP computer science principles and Geographic Information Systems (GIS).
The Academy has made an effort to provide students with internships and a support system since the late 1990's.
Martin explained that students are provided with many opportunities to gain career experience.
"We go on between 15 and 20 field trips each year (about 5-7 per grade level). Students also find business partners in the community who work in a field they are interested in and do a job shadow," he said.
Aitana Sierra, sophomore, describes how the Academy encourages use of technology to improve educational skills, and, although this may be new to some, it is a challenge welcomed by the students in these courses.
"If you mess up, you get to learn, improve and hone your skills using something that will be essential as an adult in the real world," Sierra said.
The program promotes higher education by allowing students to explore college campuses on their class field trips. However, DATA emphasizes not only the academics in each course, but also the social skills and team building that is essential to education.
"DATA is not like any other club or extracurricular activity I've ever been in." Sierra said. "The opportunities in DATA are unbelievable if you are willing to take advantage of them."