Dia de los Muertos comes to Conejo Valley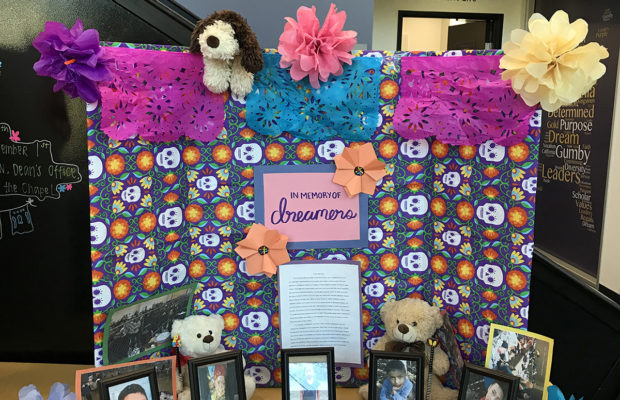 Several events in the Conejo Valley put their own twist on Día de los Muertos. Translating to Day of the Dead, Día de los Muertos is a holiday dedicated to honoring family members who have passed away.
Julieta Rodriguez-Martinez, Spanish teacher, states that Día de los Muertos is a significant holiday in central and southern Mexico. Families set up altars in order to remember their family members. "The altar is a way for families to honor their loved ones and provide them what they need on their journey," Rodriguez-Martinez said.
From Oct. 28 to Nov. 6, California Lutheran University's (CLU) Center for Equality and Justice (CEJ) hosted the second annual Social Justice Altars. Instead of family members, the altars were dedicated to memorializing those who have died as a result of social issues, including racism and homophobia. The altars were put together by student clubs and classes on campus.
Cynthia Duarte, director of the CEJ, came up with the idea for the altars after being inspired by the Chicano Movement of the 1960's. "(The movement) used the religious holiday as a way to discuss certain issues that were happening in the community, such as the Vietnam War and education," she said. Duarte modified this idea to showcase problems that affect today's society and has received positive feedback. "The diversity represented is really great," Duarte said.
On Nov. 2, the Newbury Park library hosted an afternoon event for Día de los Muertos. The day featured craft-making, a bilingual storytime and a performance from the CLU mariachi band.
Rocio Marron, director of the CLU mariachi class, helped organize the mariachi performance at the library event. "We performed last year… people enjoyed it so much that they asked if we could come back again," she said. Marron states that the mariachi program at CLU helps to create a sense of belonging for students of Mexican heritage. "(We) try to recruit Latino students and… help Latinos feel like they have a place at the university," Marron said.
The Día de los Muertos events in Conejo Valley gained positive reception. By having public displays and activities, Día de los Muertos is becoming more accessible to communities who would not typically celebrate it. "I think the (cultural roots) are there and everybody really enjoys it," Duarte said.