District adopts the Learning Continuity Plan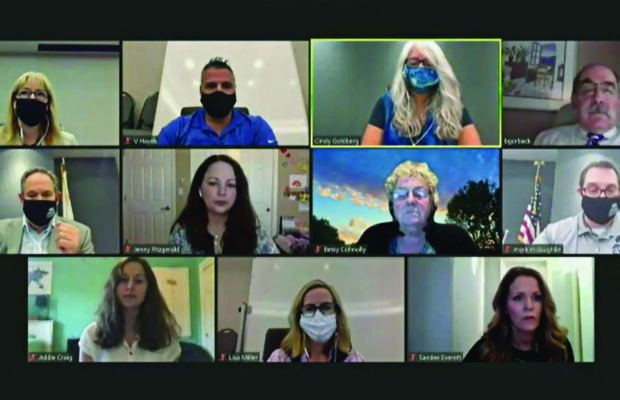 The 2020-2021 CVUSD Learning Continuity Plan (LCP), was adopted by the school board on Sept. 29, following an hour and eleven minute board meeting. The LCP is an in-depth plan that describes the district's direction, goals, actions, services and expenditures in order to support students through the COVID-19 pandemic.
In order to combat concerns regarding learning continuity in education that have been largely exacerbated as a result of the pandemic, district workers developed the LCP under the guidance of the state. "It was developed in concert with all the professional staff and all the stakeholder groups to get feedback and input," Cindy Goldberg, president of the CVUSD Board of Education, said. 
"[The whole plan] talks about things like how are we going to address certain learning loss, how are we going to move forward with blended learning, what's the plan for remote learning, all kinds of supports that we've put in place, like the wellness room," Goldberg said. "It's sort of a catch all document that's posted online." 
Following the announcement made on Oct. 6 that Ventura County had moved into the red zone, the LCP is more relevant than ever. TK-2 is scheduled to open on Oct. 26, grades third through fifth on Nov. 2, high school on Nov. 9 and middle school on Nov. 16.
"We did receive approval for that waiver, which happened to kind of coincide actually with the time when our county moved into the red tier," Jenny Fitzgerald, current CVUSD Board of Education vice president, said. "Really, [after that], the focus became, how are we addressing learning loss and what changes are we making just for this year to, you know, to support students, to maintain the education, maintain the curriculum, that kind of stuff," Brian Mercer, director of high schools and assessment, said.
"[The LCP is] very comprehensive, very thoughtful and very intentional in what is included in here," Goldberg said. " I would say [the LCP] is a much more specific document as it relates to learning continuity in the COVID-19 environment," Fitzgerald said.