Dodge to make a difference: LLS hosts dodgeball tournament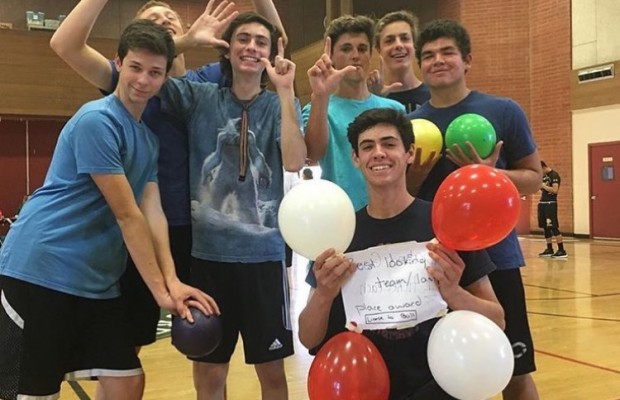 Leukemia Lymphoma Society (LLS) Club hosted a dodgeball tournament at the Borchard Community Center on March 12 to raise money and support a cure for leukemia and lymphomas, types of blood cancers. By the end of the tournament, LLS had raised $300.
The idea was introduced before winter break by club member Brayden Tokuyama, junior. The planning committee began organizing the event shortly after.
"We had to find a location, choose food options, and ask businesses for donations. Smith's Trophies and Habit really helped the event become more professional and successful," Jordan Jomsky, junior, co-club President, said.
The event attracted many participants, with seven teams competing for the title of Dodgeball Champion. The teams included the Ballslingers, Cobras, Got Balls?, The Little Boys, Squadratic Formula, License to Ball and Average Joe's.
Joe Murphy, junior, who was a part of the License to Ball team that placed last, had nothing to say but positives about the tournament. "My favorite part of this tournament was to see everyone that showed up to the event. It was awesome to see a variety of people that really wanted to participate and help out with finding a cure to cancer. I also enjoyed watching the enthusiasm and drive that some teams had to win," Murphy said.
The enthusiasm of the tournament lead to tense moments between the teams, but all in good spirit.
One of the referees of the event, Blair Rocheleau, junior, experienced this intensity first hand. "I had a really good time being a ref. There were points where the testosterone was a little intense for a high school charity tournament but it was a laugh," she said.
In the end, the team "Got Balls?" came out on top and won the tournament. One member of the team, Danny McCoy, junior, enjoyed his experience.
"Being the first ever dodgeball champions was an awesome experience. I am extremely proud of each of my teammates and the way that we pulled together and performed. In addition, it was a great experience to come together with so many in support of such a great cause," McCoy said.
All proceeds from the dodgeball event went to the Leukemia and Lymphoma Society, an organization created to raise funds towards curing specifically leukemia, lymphomas, Hodgkin's disease and myeloma. Not only does it provide money, but is also works to create a united community against cancer and provide a support system for those impacted by the disease.
"The LLS club at our high school put this on, which runs a variety of events to help raise money to find a cure for these cancers. The tournament was quite successful, and we are hoping for more of them in the future," Murphy said.
License to Ball – Juniors Brandon Treiber, Nathan Zager, Joe Murphy, Luc Germann, Daniel Suppan, DJ Cockrill, and Jack Walsh pose with seven fingers raised, signifying their last place position. llsclub/Instagram