Dog Shows: a fun and competitive extracurricular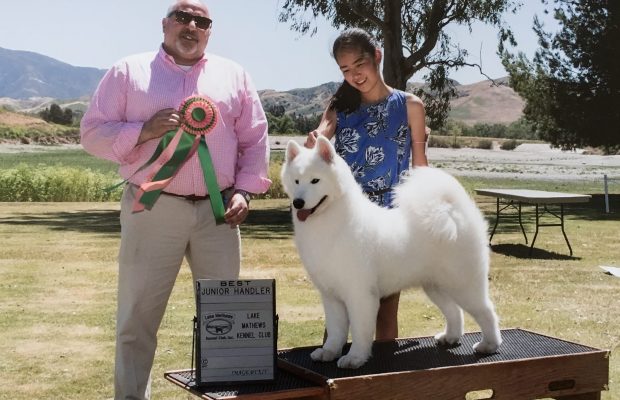 Dog shows may not be a common extracurricular activity amongst students, but for Emilie Hooker, sophomore, participating in shows with her dog is her pride and joy. Emilie and Ziva, her samoyed dog, bonded together through their experiences at these events.
Janet Chu-Hooker, Emilie's mom, was the one that got Emilie to participate in dog shows.
"After my father passed away, I wanted to get a companion for my Mom. It turned out the breeder we contacted to get Ziva wanted to have her shown. And that's how I got into conformation dog showing," Janet said.
Emilie and Janet have participated in shows together as well. Sometimes they are even in the same ring competing against one another. Not only have they been able to bond together as mother and daughter, but they also have been able to bond with Ziva.
For the juniors' league Emilie is part of, judges at dog shows look for how well someone can control their dog's behavior. Emilie explains that winning is determined by what the judge wants to see.
"Sometimes I will do simple tricks like taking my dog down on a diagonal and back; they like to see if your dog is confirmation trained, meaning how well a dog can perform based on certain standards," Emilie said.
Rings, or big, squared-off areas, are used for judges to assess dogs of a certain breed. Judges base their point system by how well the dogs meet their standards. Qualitative standards depend on what the judge is looking for in that particular ring.
"Judges will want to see dogs with dark eyes, a black nose, a good coat or good bones," Emilie said. Judges also look at the types of tricks a dog can do; a common trick tested is called the "go around," which assess how well participants can take their dog around in a circle.
Ken Griffith, Emilie and Ziva's coach, says they perform the best when they both are focused. "When Ziva is focussed she shows like a statue, she'll stand there and give Emilie her absolute, 100 percent attention," Griffith said.
According to Emilie, Ziva misbehaves often, which can make it difficult to teach tricks, but it also can make for some funny memories. "One time Ziva was so excited that she could not wait more than five seconds before jumping up. The judge told me, 'you did a great job, but your dog is a little bit too wild,'" Emilie said.
Griffith believes the two have a very close-knitted relationship. "When Emilie comes into motor halls and Ziva's in here or when Ziva has been in here prior to Emily coming in, Ziva won't stop fussing until Emily comes in and says hi to her," Griffith said.
Other than herds of dogs surrounding their owners, a usual sight at a dog show includes grooming stations. "I like to get there an hour before I have to show, and I will use that time for grooming," Emilie said. Grooming is an important component in dog shows, because dogs are also being assessed for how they look.
Emilie has been participating in dog shows for five and a half years, and has won first place in her juniors league, which is ages 9-18, 11 times so far.
"I couldn't count how many times I have won," Hooker said. Hooker has received a $750 scholarship for being a finalist in California.
Griffith is proud of what Janet and Ziva have accomplished so far, and cannot wait to see what the future holds for them in upcoming competitions. "When (Ziva and Hooker) are together and focused, they are basically unbeatable," Griffith said.
Emilie enjoys the atmosphere at dog shows and the opportunity to meet new friends. According to Emilie, the dog show community is "helpful" and "friendly." Janet agrees that friendships made along the way is the best way part of dog shows.
"Although we all compete against each other in the ring. Outside the ring we have each others back," Janet said.