Fall Sports Preview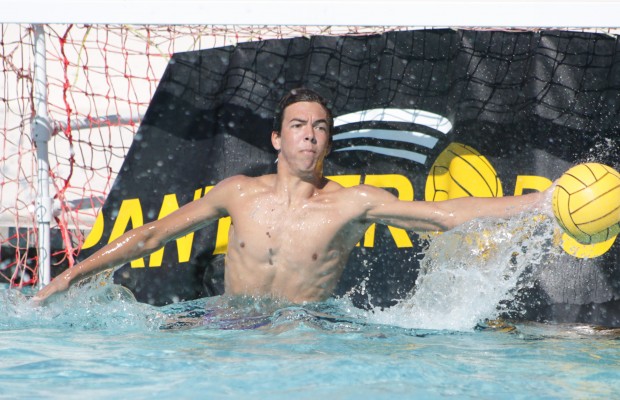 This Fall, there are six sports to come and watch: Football, Cross Country, Women's Tennis, Women's Golf, Women's Volleyball, and Men's Water Polo. These six teams are looking forward to the upcoming season. These are their hopes and goals.
Football
Cameron Rising, junior, is both the quarterback and captain of  the varsity football team, which he has been on the team for the last two years. Rising has already committed to Oklahoma University, a Division 1 NCAA school. His personal goals are the team's goals, and the team's "number one goal is to win, pretty much every time we play, as a team," according to Rising.
Team bonding usually happens off the field, where teammates just hang out, sometimes going to the movies or swimming. Rising is hopeful and optimistic on making it to the CIF championships for Division 3, and improving on the team's winning percentage, which was average last year. Their main rivals are Westlake, Calabasas, and Thousand Oaks.
When asked if he thinks the NPHS football team can beat the other teams, he replies, "Absolutely. There's not a doubt in my mind."
Cross Country
Katie Rose, sophomore, is a varsity and frosh/soph cross country runner. The team she runs for depends on the school they are competing against, and on her previous times.  Cross country runners run a three mile course, sometimes over rough terrain, sometimes over smooth surfaces.
"There are some courses that have a lot of hills, like Mt. Sac, and its crazy–switchbacks and hills. And then there's some places like our home course at Peppertree Park where it's basically flat, which is really nice. But it varies," Rose said.
Her personal goals are to "run a good season without pain or injuries and to just … have fun with the team!" Along with this, the team hopes to become more unified in the weeks to come. To bond, the team went to Mammoth for six days to train and hang out during the summer.
Rose is looking forward to the Agoura meet, where she got a personal best of 19:39.51 last year. Although the team is very strong, they are still watching out for a school that could possibly beat them, such as Thousands Oaks and Westlake High School.
The entire cross country team's goal is "for all three teams, JV, Frosh/Soph, and Varsity, to become Marmonte League champions," Rose said.
Girls' Tennis
Angelina Powers, sophomore, definitely has a lot of power behind her swings. Having been on varsity for the past two years, she is a valuable player to have on the tennis team. This year she wants to "work on approaching at the net kind of thing, and being aggressive."
She is focusing on scoring points, as well as conserving her energy during games. For the team, their goal is to better come together. They do this by team bonding exercises, "which means we all get to be miserable and run drills together," Powers said.  
Their main goal is to try to beat Oaks Christian,  Calabasas, and Westlake, as they are their biggest competitors. "I would consider them our biggest opponents," Powers said. However, she is optimistic about the season, and believes the NPHS tennis team can be the champions.
Girls' Golf
Sonia Patel, senior, is the captain of the women's golf team. Her main goal is to "work on driving the ball further off the tee and just lowering my score in general," she said.
Her strongest suit is putting, although Patel is very good in the other aspects. Most of team bonding happens while they practice at the Los Robles Country Club, where they practice for two hours a day. A typical practice divides the players into three groups; "we do a driving range group, a chipping group, and a putting group, and we spend an equal amount of time in each one just rotating out so we get a little bit of everything every time we practice," Patel said.
During the four to five hour practice rounds, the girls bond. The teams that will be harder to beat are Oaks Christian and Westlake, as both have very good players. The goal for the team is to try to win Marmonte and go to CIFs. To qualify for CIFs, the team needs six scores that are good enough. They have been successful in qualifying for the past few years, and hopefully this year will be no exception.
Girls' Volleyball
Parker Mangum, junior, and Simone Overbeck, sophomore, are both Varsity Girls' Volleyball Players, Mangum as a right side hitter, and Overbeck as an outside hitter.
Their goal: "As a team, we all want to go to CIF and win because last year we didn't. And then we all just want to have fun and just play good and become a family," Mangum said.
Overbeck agrees, saying that she wants to "Definitely come together as a team more, and 'gel together' as [Coach] Alii would say, and definitely just bond and win a lot." Already, the team has been meeting on Monday nights to have dinner, listen to music and dance around together.
Even when there is not a game, all of the teammates encourage each other and just have fun. As for the competition, Overbeck said, "All of the teams in our league are pretty tough to beat." Both Magnum and Overbeck agree that Thousand Oaks High School and Westlake High School will probably be the most difficult teams to defeat. However, they are hopeful that they will prevail.
Boys' Water Polo
Out of the pool, Jordan Jomsky, senior, is the Co Captain of the Water polo team, along with Ian Bowden. In the pool, he is the center defender, which is the first line of defense for the goalie, and therefore a key job for the team.
Jomsky's personal goals are to "be a good leader on the team and play a good defense." Jomsky's peers motivate him to perform, in the pool.
"Water polo is very interconnected because we all know each other in club, so you always want to beat your club teammates," Jomsky said.
Team bonding for them comes from within the pool, because "we are together so much, and we have to work together a lot, and survival week is our biggest time to bond because we have to work hard together, a lot of pushups together," he explains.
During practice, the team has creative ways of making it fun, telling stories or playing games while waiting. The team hopes to beat Thousand Oaks and Westlake. As a Division 5 water polo team, they hope to make it to CIFs. In addition, they want to "work together better than we did last year and keep improving upon what we did last year and make defense first," Jomsky said. He knows the Marmonte League teams will be tough to beat, but he knows they will definitely  have a fun time at tournaments.
Hopefully, these teams will all have successful seasons. However, they can't do it without your support! Go cheer on your classmates as they try to rise up and win the Marmonte League.