Samantha Pedroza pursues cosmetology career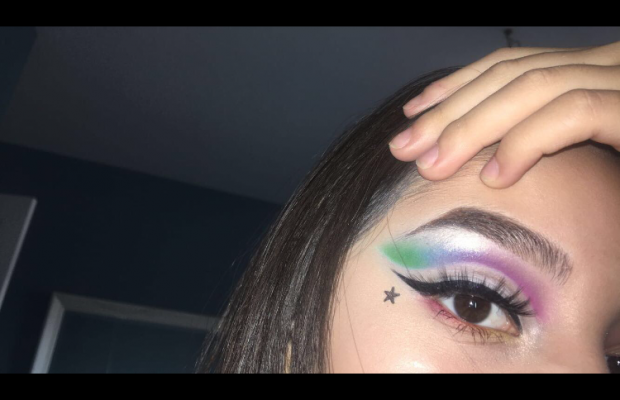 The cosmetology industry is one that challenges individuals to stay up-to-date on current fashion, beauty and style, while utilizing their creativity to work on a variety of forms of beauty treatment. Samantha Pedroza, junior, is passionate about this field of work and aspires to pursue cosmetology as her future career.
Inspired by YouTube sensation James Charles, Samantha has been practicing cosmetology since September of 2018. She focuses on the sector dedicated to makeup, more specifically fashion-runway looks.
"I'm into fashion runway kind of makeup. Weddings, I'll do here and there, but it's mainly fashion. Big, kind of crazy makeup," Samantha said.
With hopes of supporting her career as a cosmetologist, Samantha looks forward to going to several trade schools that provide her with the training and experience she needs. "After high school I'm definitely going to a trade school out in LA. I want to go to either MUD or Los Angeles Makeup School," Samantha said.
She enjoys the creative aspect of cosmetology and believes doing makeup is for anyone. "My favorite part is that it's so creative and there's no right or wrong way. You get to do whatever you want and it's honestly so fun. You just have to really get into it. Anybody could do it, you just have to pick up a brush and just go for it," Samantha said.
Veronica Pedroza, Samantha's mom, supports her daughter's aspirations and recognizes the dedication and time she puts into her makeup looks.
"I, 100 percent support her, just because I can see her passion in it. She's very dedicated to it and anything that makes her happy, I'm happy with," Veronica said.
Besides being supportive of her career, Samantha's mom is attentive and notes the time she spends practicing makeup as well as the detail she puts into every look.
"The way her techniques are, it can take her a bit. You're talking maybe two hours or maybe even three. She uses a lot of bright colors which makes her stand out. When she comes down to show us, there's different lengths of her eyelashes to the different colors that she put on her eyes. I just love that she is not afraid to use color," Veronica said.
Samantha's sister, Alex Pedroza, takes into account the time and effort her younger sister puts into pursuing makeup. "The more creative she gets, it will take about two hours. I know there are times that she's working on the eyes and it takes maybe about an hour, just for the blending. It just all depends on the look and it ranges between an hour and a half to three hours," Alex said.
Samantha's future career continues to be supported by her family members, as well as the time and effort she dedicates to refining her makeup skills.