FBLA members head to state after sweeping sectionals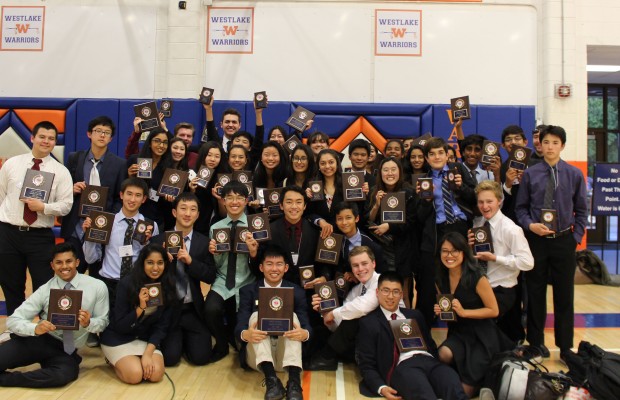 One of the biggest clubs on campus, Future Business Leaders of America (FBLA) is a group where students can compete at sectional, state, and national competitions by taking tests in real world topics of their choice. They competed in their regional tournament at Westlake High School on Saturday, Feb. 4.
Meeting in English teacher Brandon Janes' room almost every Thursday since September, members chose their competitions, paid their dues, signed their forms and studied hard for their tests.
These tests were taken on a computer, each an hour long and covering subjects from Introduction to Business to Health Care Administration. There were also group competitions and public speaking events.
For freshman Varna Kanapuram, competing in Insurance and Risk Management, this was her first time participating in the event.
"While taking the test, I went through basically a full spectrum of emotions, ranging from immense confidence to me completely freaking out," she said.
After four sessions of tests, the results were announced at the awards ceremony in the afternoon, where the state qualifiers, or the top six to seven students from each test, were announced. Other students who scored in the top ten were also recognized. For Kanapuram, making it to the state competition was one of the only things on her mind.
"After being called up," she said, "the only thing I was hoping for was my name not to be called for the first four names, so that I would be able to move onto state."
Kanapuram was among more than 35 NPHS participants that qualified for state, taking first in her competition.
Jeffrey Sun, senior, club president of the club and Vice President of Membership for the Gold Coast region, also won first in his competition, Business Calculations.
He originally joined FBLA because he "was interested in going into a career in business," and has found that others share his interest.
"We had the biggest group we've had for a while, total membership being just over 100 (but not all went to sectionals). Also we had a lot of underclassmen compared to previous years," Sun said.
NPHS also won the Sweepstakes award, which means students from NPHS won the most number of awards out of all the schools attending.
"When I heard NPHS won sweepstakes I was incredibly happy for everyone, and in awe that this was our second consecutive year of winning this award," Kanapuram said.
While Sun is excited to go to the state competition, as a senior, he knows this is his last year participating in the event, and wants others to continue to join, work hard and win awards for NPHS.
"We have a large proportion of members graduating," Sun said, "and I really hope after we graduate our younger members can continue our legacy and keep the chapter alive and winning."