Football Season, Soccer Season … Mock Trial Season?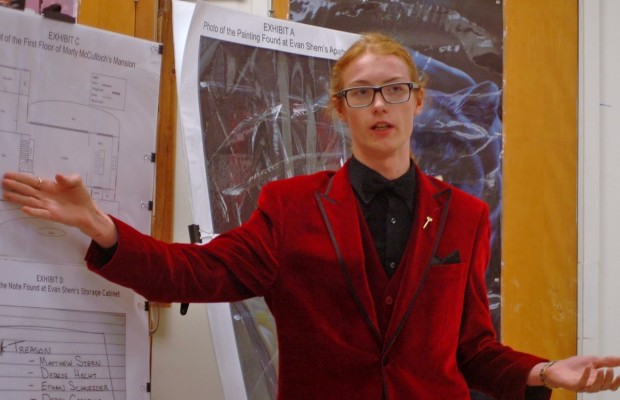 The Prowler, Panther, and Gold teams competed against fellow schools in the Ventura County Mock Trial Competition from Feb. 23 to 26. The Gold team placed sixth overall, while Panther and Prowler team did not place in the top eight teams.
Senior Jeremy Kane won an individual first place award for portraying the witness Charlie Gibbons. At this awards ceremony, each school chose several Most Valuable Players (MVPs) of their program. Seniors Amy Dodson, Jeremy Kane, and Jinal Sharma (who also serves as Mock Trial president) were picked to represent Newbury Park.
Mock Trial is a student organization that gives members the chance to participate in real life simulations of a court against 27 other schools in the county. Students involved in Mock Trial meet on Mondays and Thursdays to prepare for the annual Ventura County Mock Trial Competition.
"Students go from opening statement to closing statement," Sharma said. "(They) do exactly what real attorneys do." Jill Brock-Barraza, Mock Trial presentation coach, added, "it is a combination of intellectual work, theatrical work, and camaraderie."
After tryouts in the beginning of the school year, students are divided based on skill level into three groups: Prowler, Panther, and Gold. "We take all kinds of kids. We take theatrical kids, we take the kids in AP/IB, we take the kids in DATA and CP," Brock-Barraza said. " We take anyone who is willing to focus and put the work in."
Usually the program starts off with 100 students divided between the three teams, and reduces throughout the school year to around 60 students due to the workload. Mock Trial members begin to learn and review basic court and trial concepts starting in September.
"At practice (participants) learn about the judicial system (and) work out case theory," Sharma said. "They have to know legal objections, witness statements … they have to know what pertains to their job."
According to Mock Trial advisor Peggy Walker, the teams receive the case for the Ventura County Mock Trial Competition in the middle of September. After becoming familiar with the case, teams start scrimmaging the next month. Up until the competition date, students continue to revise their arguments and study the case.
"We work all year for this event. We do scrimmages against other schools, but it comes down to analysis and knowledge of the case," Sharma said. "It's not memorization or scripted … you (just) have to combine all the teams' main points and objections."
Prowler, Panther, and Gold scrimmage against other schools up to twelve times each season in preparation for the county competition. Scrimmages help the teams acclimate to the court environment and, according to Walker, to see the holes in the case that the team needs to fix.
Although the program has 11 different coaches along with a club advisor, the students are largely responsible for leading Mock Trial. While coaches make suggestions to the students "they don't write anything or do the work for the kids," Walker said. Members are not required to put in work outside of their five-hour weekly meetings, according to Brock-Barraza, but many often go the extra mile .
"It is a student-motivated group. The outside practices match up with how well they do. If they organize outside practices, and do it a lot to get their group together, they do better in competitions," Brock-Barraza said.
In the first two days of the competition, teams compete in four trials of over two and a half hours to determine the standings for the semi – finals on Wednesday.
"The actual county competition is a week long of what I like to call torture because Monday and Tuesday are the preliminary rounds. One, two, or three of our teams usually make the semi-finals, and then at least one of our teams makes the finals which is on Thursday," Brock-Barraza said. "They are out (to) 11-11:30 every night of the week. Then if they win county, they go onto state."
In the competition, groups present their case to an individual judge instead of a jury, in what is called a bench trial. Students are individually given a score from one to five by a group of three to four scoring attorneys. The criteria for scoring includes knowledge of the case, knowledge of the points made, among other things, but can vary from person to person due to their position requirements. Individual student scores are totaled up to achieve a total group score. This group score is ranked against other schools to move onto further rounds in the competition.
The county competition marks the end of another Mock Trial season. Even though the program is demanding, members such as Sharma are glad they joined.
"When people think of school, they think it is a lot of work and it is boring and that they don't want to do it. Mock Trial is a lot of work but Mock Trial gives back. Personally, I've never noticed how much work Mock Trial is because I love it so much. I always say 'I'd rather be in a courtroom than a classroom' and my friends always laugh," Sharma said.