Foreign exchange students dream of… school?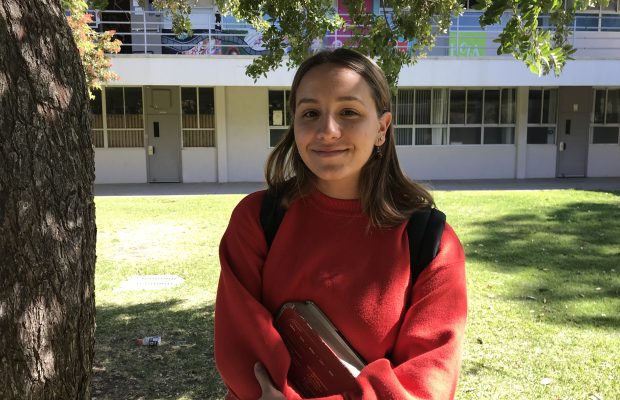 Hollywood, Disneyland and hamburgers: what we think of as the classic American things that foreigners dream of.
In August, NPHS welcomed several exchange students, including Giulia Zaghini, junior, from Italy, Felix Mueller, junior, from Germany and Stefania Solovastru, junior, from Romania.
Zaghini has dreamt about coming to America for years. "It's always been my dream because in Italy we see a lot of movies about America," Zaghini said.
She was not dreaming about American barbeques or watching football, but instead about going to school. "I was really excited for school because it's really different from Italy and I really wanted to take classes that I liked and also join different activities in school," Zaghini said. So far, she has become more involved in school by joining choir and playing for the NPHS lacrosse team.
Despite her excitement, there was still some nervousness. "I was scared about my host family in the beginning because you never know until you meet them how they are," Zaghini said. "I was afraid of the English at the beginning because I thought, 'I won't understand anything that they're saying because they talk so fast.'"
Other than the school experience, she was most excited about the sightseeing. When she first arrived in America, her host family decided to take her on a trip across the country where she visited New York, Chicago, Mount Rushmore, Las Vegas and Yellowstone. She also visited Universal Studios, spent Christmas in San Francisco and attended Jingle Ball in Los Angeles.
Mueller wanted to come to America for similar reasons to Zaghini. "The experience, the school experience, is really different than Germany. And to improve my English," Mueller said.
Mueller has gotten to know his host family since he arrived in August and is incredibly grateful for everything they have done for him.
"Sometimes I miss my friends… and my family of course," he said, laughing. "I went to Mammoth, I really like snowboarding. I went to Las Vegas for 4 days. And my soccer club, my soccer team is really fun," Mueller said, listing the things he has liked the most.
Solovastru arrived in August through Rotary, an international non-profit organization that aims to tackle the most pressing humanitarian issues around the world.
She wanted to come "to experience another country and see different things," Solovastru said.
Zaghini, Mueller and Solovastru all arrived in America hoping to experience our school life and visit our famous sites. "I really wanted to experience an Americanized school and life," Zaghini said.