Gia Saputo makes Snapchat sparkle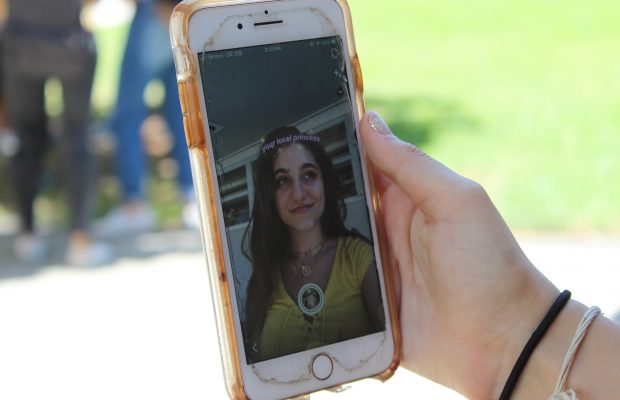 A 2012 iMac sits in front of her as she places the small, shiny sparkles exactly where she wants them. When she is happy with the final product, she releases it for thousands of people who use it to make their surroundings look magical.
Gia Saputo, junior, is a 16 year old Official Lens Creator (OLC) for the social media app Snapchat. With 36,000 people subscribed to her account, she creates her own original lenses on her computer which Snapchat posts on the Discover page. 
Lenses are visual effects or filters that can be applied to a Snapchat photo or video. It ranges from funny faces to flattering filters, and the possibilities are endless as to what lenses can be created. 
"It was November of last year and it was during the fires, and I had nothing to do because it was two weeks off, and I was sitting at home," Gia said. "It doesn't seem too hard, but actually it was pretty hard to figure out at first and then I published my first lens." Gia's first lens became one of her most popular lenses. 
"I got an email from someone at Lens Studio which is the application that I use," Gia said, "so I applied and I was on a conference call with people who are like the head of the OLC stuff, and they really liked me and so I became an official lens creator in November 25 (2018)." 
A Snapchat OLC is provided with free Snapchat merchandise, exclusive invitations to certain events put on by Snapchat and more publicity for their lenses.
"I like a lot of vibrant things… I like magical stuff, so like a lot of my lenses have to do with like sparkles or like super bright colors," Gia said. She uses Lens Studio, a software for lens creators that partners with Snapchat.
"I get a lot of like anonymous messages of like people saying they are really inspired by me, and they want to do what I do," Gia said, "It's really interesting that people that I don't know from different countries or different states or like area codes, they think that I'm inspiring and it's really motivating." Gia links an anonymous messaging program to her Snapchat known as YOLO where viewers often send her a variety of responses ranging from criticism to compliments. 
"I'm actually…going to a festival in October called Lens Fest," Gia said, "so I get to meet all my friends that I've made through this community. I've made one really close friend, Ana Casciello." Lens Fest is a convention for OLC's, and Ana Casciello has been creating lenses since October of last year.
"We met each other, I want to say through (direct messaging). We both had made lenses and we talked to each other, like almost looking for help with something that we were stuck on, and then we just kind of became friends through that," Casciello said. She is currently a freshman at Virginia Tech with a major in Computer Science Engineering. 
"I love everyone in the (OLC) community. I'm friends with a lot of people in the community so I definitely feel like Snapchat did a great job of like allowing us to communicate with each other." Casciello said.  Casciello often seeks help from other OLCs to balance lens creating with school work. 
"A lot of people ask me if I get paid, and I do not, but people can pay me to make them a lens," Gia said. She has never accepted any requests to create a lens for pay, and she intends to decline until a company contacts her to create one.
"I don't think anybody in our family has ever, you know, they don't have traditional jobs…everybody is kind of creative," Dana Saputo, Gia's mother, said. It was not until Gia's first lens became popular on Snapchat that she discovered Gia's lens creations. 
"We don't have any scientists (in the family). Let me put it that way," Dana said. The Saputo family consists of three generations of creative types ranging from illustrators to designers to art directors, and Gia is proven to be no different.
"I didn't think that I would be doing this at all, like this is something that has changed my life," Gia said. "It's opening a lot of doors."