Girl Up raises money to empower girls around the world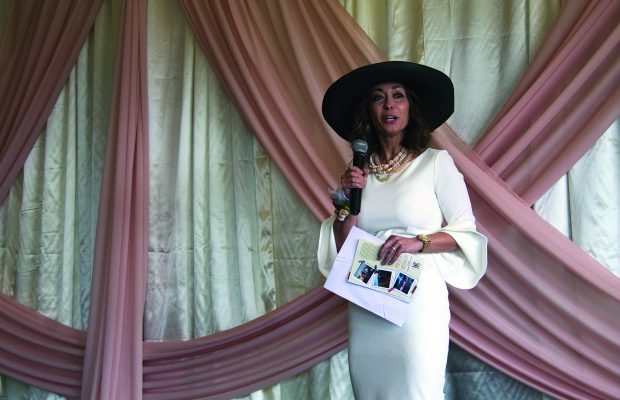 In many places around the world, girls are subjected to violence and discrimination. 70 million girls worldwide said they were the victims of physical violence by the age of 15, according to data provided by the Girl Up foundation.
The Girl Up chapter on campus hosted a gala called "Hats & High Tea" on March 11 at the Los Robles Greens Golf Course.
The banquet halls were filled with people as vendor's lined the entryway to the ballroom, displaying authentic Indian dresses, jewelry and a woman with a vow to make every person see their beauty. The ballroom itself was bustling with those who are dedicated to supporting an organization that is ready to make a change– Girl Up.
Attendees shopped at the vendors that lined the walls, each purchase bringing Girl Up closer to their goal of raising over $1,000. After an hour dedicated to the 'sip & shop social', the sound of a microphone gathered the audience's attention. Denise Carter, host and comedian, welcomed Girl Up's chapter president, Kavita Rai, to the stage.
Rai opened by thanking everyone for coming and expressing her gratitude for those who were willing to have a conversation about topics that the club feels are essential in the fight for gender equality and against sexual abuse and domestic violence.   
Ariana Madix, an up and coming Hollywood Starlet, gave the first speech of the afternoon. She spoke about her #BeautyHasNoSkinTone campaign which aims to encourage girls to recognize their individual beauty. The campaign's proceeds benefit the Girl Up organization and their mission to 'unite girls to change the world'.
Kathleen Hagan, professional makeup artist, drives her business to push beyond the standards set by society. She encourages all women to find their individuality and challenge mainstream beauty.
"I think that lately fashion and makeup (have created) a sort of mask of illusion which is where you know people contour and highlight and change their features and change their skin tones," Hagan said, later adding, "which is great if you want to do that, awesome, but I feel that some women are feeling like they have to do that and that shouldn't be the way it is. You should be able to walk out of the door without anything on."
Catie Parker, junior and the club's public relations secretary, has been a part of the Girl Up chapter since its appearance in her sophomore year.
When commenting on the club's purpose, Parker said, "The club focuses on empowering women and girls in less economically developed countries, bringing healthcare to them, bringing nutrition, basically helping girls across the world while empowering girls here in the United States."
The gala included the insight of many speakers who gave a speech at the event. One of the speakers, Maureen Shea, told her story of domestic abuse and how she changed her life for the better.
Shea was motivated to speak at the event because of the possibility of inspiring women and men to talk about their hardships in order to break the cycle of silence around topics like gender inequality and sexual abuse.
"I believe events like this and speakers like myself sharing our experiences can help women relate, understand and heal. Women having compassion for other women and sharing how they took their power back or how they grew stronger by educating themselves and surrounding themselves with other strong women," Shea said.
The club furthered these conversations by placing a conversation card on each table, each of them containing questions about what could be done to motivate people to push for worldwide change in gender equality. Each table shared their opinions on their designated questions at the end of the lunch hour.
In total the club raised over $3,000, surpassing their original goal of $1,000. For more information on how to get involved, Girl Up meets in B29 every Thursday.
"Our club I think is really unique in how it's run we have discussions every club meeting which is really fascinating and it's interesting to see the dynamic because we have such a unique group of people that come. So, I think anyone, it doesn't matter what your viewpoints are, you'll find someone in the group you can agree with," Parker said.