Girls' Lacrosse with High Hopes for Postseason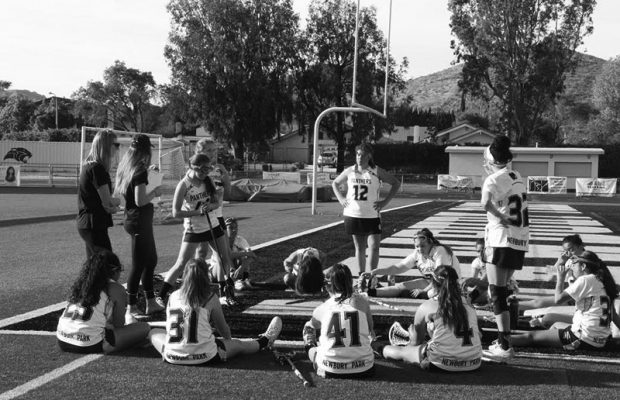 Erin Duffy's hands twist on her lacrosse stick, her upper arms tensing as she chucks the rubber ball down the field. An opponent's stick slashes across her torso, and she tumbles to the ground. Team captain Sydney Bumbarger scoops up the ball, firing it past the goalie for the winning shot. The crowd is electrified. This is the new look of the girls' varsity lacrosse team.
This season, the team benefits with the addition of several promising freshmen, including Duffy, Maile Kuo, Cameron Millet and Jensen Bertram. With the help of these new starters on varsity, the team has had a strong season so far. They have an overall record of 14-4 and a league record of 5-2, with high hopes of making a deep postseason run.
"Now with the talent we have on our team, it's very capable if everyone does their job and works towards a common goal, which is making it to CIF this year. I think when we get to CIF we can also go pretty far into the playoffs," Erin Duffy, freshman, said.
The goal to make it to CIF will not be an easy task, especially with a young team, but the players believe in themselves and their ability.
"The hardest thing for our team to make it to CIF is going to be staying competitive throughout each and every game, not depending on (the weakness of) each opponent," Duffy said. "We have to continue to work at a fast pace in practices to ensure we will play fast in the games."
Sydney Bumbarger, senior, is one of the captains of the team and the leading point scorer. "The team wants to have a better flow than last year. We have more talent on the team so we are able to form our own type of game from the potential we have," Bumbarger said.
They have been addressing their weaknesses at practice and finding ways to strengthen their overall game. "Our biggest problem as of now is our defensive communication, especially our defensive slides," Duffy said.
Girls' varsity lacrosse is under the leadership of a new coach this year, Karena Lewandowski. With a fresh set of eyes, she hopes to bring new strategies and fresh team dynamic on the field.
"My goal was definitely to come into the season and revamp the program for both JV and varsity," Lewandowski said. "We lost a good handful of returners and seniors, but also gained some quality freshman."
In addition, one of her top objectives is to build the team spirit.
"All four coaches work really well together and it definitely seems like the team as a whole has become more of a family, which was probably my biggest takeaway from this year," Lewandowski said.
It looks like she did indeed achieve her goals as their record improved greatly this season. The team has a good chance of going into the postseason and hopes to go far into the playoffs. They are looking to test their skills this Friday against Thousand Oaks in an away game.