Girls storm the football field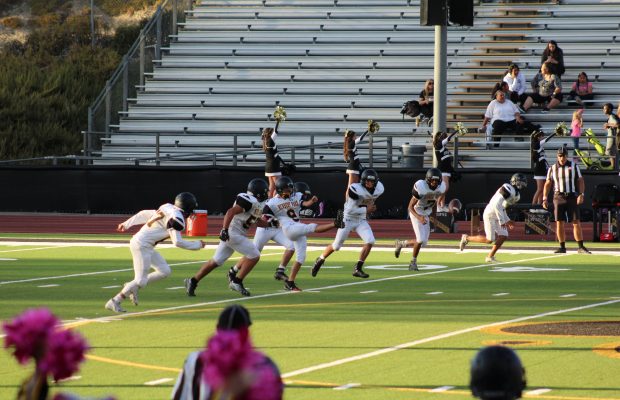 Over the past several years, NPHS has seen a change in the makeup of the "boys" football team. The new school year has inaugurated Ashley Washington, freshman, and Hope Chavez, sophomore, into the Panther family and the school football program.
This was Washington and Chavez's first year playing football, but they both have a strong background in a variety of sports.
Having played softball for eight years, as well as basketball and volleyball for four years, Washington was well prepared for any physical challenges that might have come with being a running back and a linebacker on the freshman team.
"I've always wanted to play football," Washington said. "It just seemed fun and it was a contact sport."
She was not allowed to join any high-contact sports until she entered high school due to their higher risk of injury compared to other sports.
"Now I'm in high school, so now I'm playing," Washington said.
Chavez's athletic history includes playing soccer in middle school and running cross country during her freshman year at Thousand Oaks High School, making her well-qualified for her positions this year as the JV punter and onside kicker.
"I just found it interesting because no girls really join the team, so I wanted to see what it was like and I ended up really liking it," Chavez said.
As an incoming sophomore over the summer, Chavez still needed to decide on a sport to play in order to fulfill her physical education requirements.
"Since school was starting and I needed to pick a sport, I chose football," Chavez said.
Girls being on the football team is not entirely unprecedented, given that Katie Meyer was backup kicker for the last two seasons, and a couple girls before her also represented the Panthers on the football field.
"Our football program accepts anyone who comes out to play and puts in the expected time to be a part of the team," Jason Klein, athletic coordinator and head football coach, said.
Because the players on JV and varsity are larger and taller than those on the freshman team, Washington's father is hesitant for her to continue on the football path. At only 5-foot-2, Washington is significantly shorter than most of the players on varsity, so she accepts that varsity football may not be in her future.
"I would rather get a softball scholarship over a football scholarship," Washington said. "Because I've been doing softball for so long and I really know how to play."
Washington never had large aspirations to "be the first girl in the NFL," instead she is content to play high school football for its unique experience that she has always wanted.
"I'm not like 'Oh, I wanted to get noticed by everyone because I'm playing football and I'm a girl.' That's not what I'm doing, I just wanted to play," Washington said.
Chavez also joined the sport for her own enjoyment. Contrary to Washington, she wants to research all-girl football leagues and is open to seeing if her football journey continues into college.
For the present, however, Chavez intends to hit pause on football for next year, but tryout for varsity her senior year.
"I want a break because I've been doing a lot of sports and my credits are good," Chavez said. "Football took up a lot of time, so I need a year to just focus on school."
Both girls encourage other girls to join the team and look forward to when there will be enough to form an all-girl league.
"More girls should play where it'd be an actual football team. And it wouldn't be as weird if you were playing football if a lot of girls chose to do it," Washington said.
"It's really not that big a deal. You don't hear people saying 'Oh, that's the girl on the tennis team.' I'd prefer it to be more casual and just it's happening," Washington said.
Alongside their hopes for the future of the sport, Washington and Chavez formed strong friendships with their teammates throughout the season.
"It was a really good season and in the end (the team) became really close," Chavez said.