New Playing Strategy for Girl's Tennis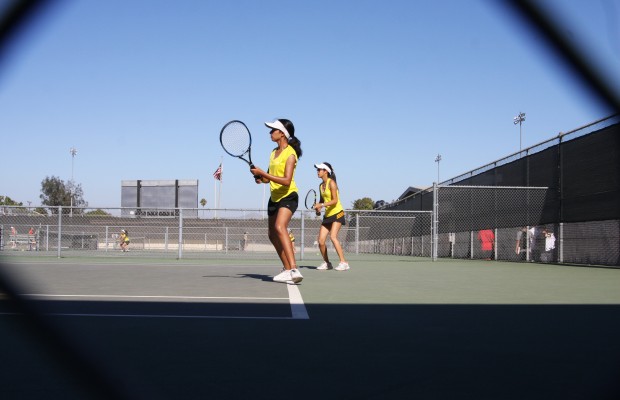 The summer heat was almost unbearable, with the sound of tennis balls ricocheting off of the racquet like the popping of a soda can. Whispers of coaches sound in the background.  Each girl wonders if she has secured their position on the team.
Tryouts for the Girls' tennis team were held on Aug. 9 – Aug. 11 with many girls giving their best effort to make it onto the team. With more competition at tryouts and new coaches Bill Mulligan and Richard  Kick, how will the team fare this season?
The girls did the same warm ups and practices every day while the coaches observed how they did during preseason and tryouts. Coaches then made confidential decisions about the team.  
Maya Ghanem, sophomore and varsity singles player, has a positive outlook on this year's season.
"Because our new coaches are significantly helping us to improve our game, I think that the tennis team will play so much better this year," Ghanem said."The training we got this year really showed in the team win against La Reina yesterday. [Aug. 30]." She added, "I think tryouts this year were pretty fair. There was a lot of competition this year for tryouts, and the coaches were saying they had to make a lot of tough choices."
When talking about useful skills and expectations, Coach Mulligan explained, "Continual improvement and incorporating skills to competition" can help the team set and reach their goals.
A month before tryouts, the girls had preseason where they practiced three hours a day Monday-Friday.
Alexis Bennett, sophomore, who did not end up making it onto the team, said, "I plan on trying out again next year. (I'm going) to do better than I did before every time I practice… then the results will show when I play."
Mulligan later added, "The team has improved since last year. Everyone who played last year has one more year of experience and the team gained two varsity players that did not play on last year's team, namely, Maya Ghanem and Jaden Moriarty, freshman. They both played varsity singles in our first preseason match against La Reina."
Tryouts and preseason practice helped the girls kick off their season with a 10-8 win against La Reina in their first preseason match.
As Ghanem  looked  back on the process of tryouts and developing her confidence, she said, "The thing that was most important for me was the development of my mental skills, rather than my physical tennis game. I feel that tennis takes every part of you physically, emotionally, and mentally… Before tryouts I didn't feel very confident… but the process of trying out and playing matches helped me a lot more in that aspect of tennis."