Girls' tennis starts new season with new coaches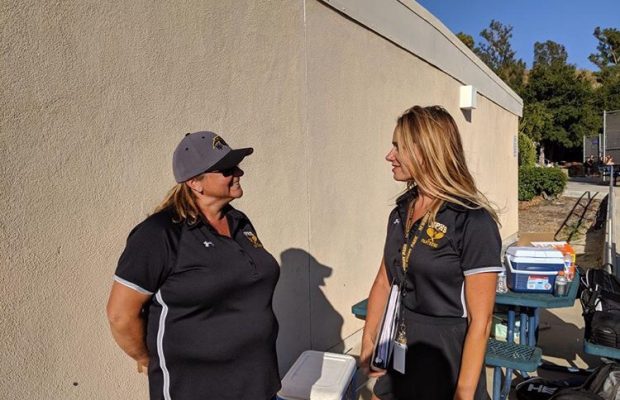 Going into the first Marmonte League games this season, the girls' tennis team has added two new coaches to their staff, after the last coach stepped down. Head coach Meg Hammer and assistant coach Karrie Markrud have brought new perspectives to the team's game, as well as different coaching styles.
"The new coaches have begun implementing more drills that have helped the team gain new skills. We have also begun using different plays to use against a wide variety of opponents," Ellie Evans, senior and captain, said.
The coaches are focusing more on specific techniques and skills this year. Hammer has the players work on strategies for doubles, work on shots down the line, and making clear and strong volleys. They also go over point strategies and placement of the ball to hit clear winners. 
"This year has been more competitive as returning players have had to prove their skills to a new coach. The increase in competitiveness has allowed for the team to achieve one of the main goals of this season, to always come out playing your best," Evans said. 
Many of the players say they have improved their game during the summer off-season practices, using the new coaches to add to their game. 
"Coach Hammer is really focusing this year on getting us to be in top physical shape," Nina Almaoui, sophomore, said. The players will do sit-ups, run lines, sprints, and drills to strengthen their foot work.
With conditioning at practice everyday, the players have been building their strength, endurance and game strategy. In addition, they practice drills on skills like volleying at the net, serves and shots in different places on the court.
"At every practice, we work on serving wide or down the middle…having a solid serve is a huge part of the game," Hammer said.
By working on every part of the game, Hammer hopes to get the players to a higher level. She says she believes that the skills and conditioning that the players work on during practice will help ensure that they can close out tie-breaking games and sets, even after hours of playing.
"The girls are all here to compete and win and it feels good that they are up to train hard for practice," Hammer said.