Girls' Volleyball spikes into the playoffs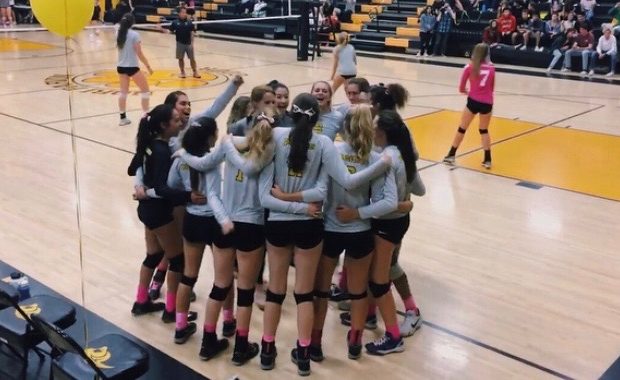 Girls' volleyball wrapped up their season with a positive mindset and hopeful outlooks on the future. On Oct. 31, the team went head to head with Notre Dame Academy and unfortunately, were not able to win the match. Although the playoffs did not go as planned, their journey to get to there is one that the team will be able to reminisce and reflect on for years to come.  
While the team was focused on their preparation, they never forgot the importance of team bonding. Parker Mangum, senior, had played on the varsity team since her junior year and remembers the fun memories the team shared throughout their many practices.
"During warm-ups, we would all goof around and talk about our days and then we would start practice and do drills or play against each other. Whatever we did we have fun doing it," Mangum said.
Heather Kawaguchi, junior, has been a varsity team member for two years and values the practices that helped prepare the team for their matches.
"The team practiced very hard and tried to get into the right mindset. I found a video of our opponents for playoffs and we watched the film and tried to see what each player's tendencies were," Kawaguchi said.  
Chris Forrest, varsity coach, started working with the team this year and is looking forward to next season.
"Our team played as best we could against a strong opponent," Forrest said. "We start our season in July and hold summer practices, this is vital to the team being prepared for the season ahead."
While the team did not walk away with a win during playoffs, they were able to look with camaraderie and optimism on their season.
"Looking back on the season I'm happy with it and I wouldn't want to change it. It was probably the best season I've had and I'm glad that it was my last one," Mangum said.