Hands on Earth club promotes the power of nature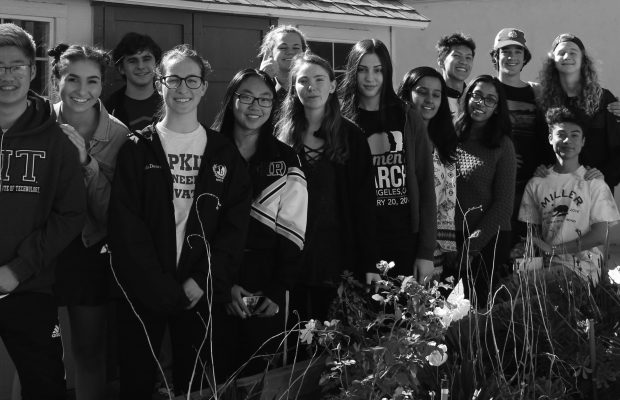 Some students have a knack for sports, others have a passion for computer programming and some have a green thumb. No matter what interest group students may identify with, there is always room for them in Hands on Earth club.
Daria Azizad and Maya Chari, juniors, had an idea for an environmental club that could help innovate and educate the campus. Thus, the club Hands on Earth came to be. Those involved in the club work to create conversation around the environment, where it is heading and what they can do to help. This relatively new club has spurred an awareness of nature that has only recently been spread across the student body.
On Jan. 27, the club hosted a gardening event at NPHS from 9 a.m. to 12 p.m., where they had the opportunity to further their goals.
During the event, those who attended, 15 students and a handful of adults, weeded and put new soil in the club's gardening boxes.  They also planted four different types of carrots, a milestone that they hope to further in the future. They also had the chance to speak with a garden specialist who provided more soil to the club and plans to help them complete their final gardening box.
The club welcomes a variety of students to become involved in their weekly discussions. Suha Hussain, junior and vice president, encourages student involvement by creating an entertaining environment.
"You will learn something new every meeting. We also focus more on group discussions as a whole rather than just activities directed by the board members," Hussain said.
The club has bigger plans for what lies ahead as they plan on beginning the project of introducing solar panels to the school and encouraging environmental growth by creating a safe place for wildlife such as butterflies, bees and hummingbirds. Another goal of the club is to maintain a sustainable garden that can provide fruit and vegetables to the cafeteria.
Brian Fang, junior, first joined Hands on Earth while looking for something to do with his friends on Wednesdays at lunch.
"Other students should join the club because most clubs don't give you the opportunity to make an actual difference. In this club, we are working on real environmentally beneficial projects, such as getting solar power for the school and renovating the NPHS garden for all students," Fang said.
Anne Alvarez, special education teacher who oversees the club's gardening events, explained the importance of a club like this on campus. "It is not just food growth, it is recycling and making a better place for everyone and that is what I think this club is all about," she said.
The club encourages students to join whether out of pure curiosity or a genuine passion for nature preservation.
"We're a really friendly and welcoming club," Hussain said. "We had a lot of people (at the event) who usually don't come to our meetings but know of the club. Our club is mostly juniors but it would be nice to see more members who are sophomores or freshman."
Students can join in on the club's conversation on Wednesdays at lunch in room D8.
And if you need even more convincing Fang added, "I don't think there can be a better feeling than getting to eat your hard work."