History has never been so sweet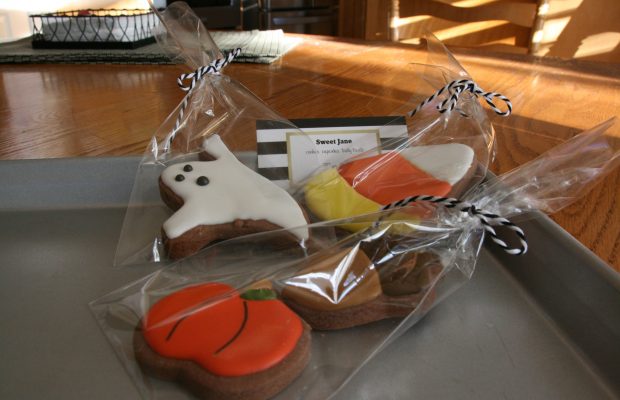 AP European History and sugar cookies do not seem be related, yet among the interests of Tiffani Coull, they live in harmony. By school day, she is an AP European and CP US History teacher; after 2:05 pm she is the baker extraordinaire of her own business.
"It's (called) Sweet Jane. My daughter came up with it, because both of our middle names are Jane," Coull said.
A couple years ago, Coull challenged herself to learn how to bake. Receiving positive feedback from everyone who tried her treats, she decided to sell them. She gave goods to her coworkers and students, baking treats for her monthly department meetings as well, and she steadily grew in popularity from a word-of-mouth basis.
Despite only having a business card and a price list, she normally receives three orders a month, tripling during the holidays. Any order can be hectic, though, especially when it is last minute.
"I definitely like at least two weeks notice," Coull said. "That gives me time to order the ingredients … especially if it's … (a) specialty flavor… anything less than a week I tend to laugh, and then do it anyway. "
However, this element of personal commitment is what Coull thinks will draw patrons to her instead of other bakeries; she also credits her "fresh" flavors and creativity. Customers can say what they want or give her a theme and she works with that, using ideas from pinterest for designs, chocolate molds for edible decorations and specially ordered ingredients like Belgian dark chocolate. Her creative genius, though, is what discovered a frosting recipe that Coull believes is her secret to success.
"I won't tell people what it is," Coull said. "I don't really like buttercream (and) I feel like cream cheese frostings are too heavy, so I found a way to combine the two. I think it's my frosting that sets me apart, I really do."
Surprisingly, Coull does not like any frosting, but her customers clearly do not share this opinion; her frosted treats, specifically her cupcakes, are some of the stars of her collection. Sarah Sager, senior and teacher's assistant in one of Coull's classes, admits that although she enjoys all of Coull's treats and would "definitely" buy them, the cupcakes are her favorite.
Steve Johnson, history teacher, agreed, saying the "chocolate cupcakes for our most recent department meeting … were just out of this world." In the past, Johnson brought Coull's sugar cookies to a party, and after recalling their wild popularity, says he is going to be a frequent customer during this year's holiday season.
"Anything that comes out of her oven is fantastic and our department is always looking forward to the next meeting," Johnson said.
Looking beyond the next history department meeting, Coull's new challenge is to eventually open her own bakery.
"A cupcake, cookie, pie shop… Maybe when I retire," Coull said. "That would be awesome. I would like that a lot."
Like her original goal of learning how to bake, Johnson thinks this challenge will be met with signature Coull style.
"She's talented," Johnson said. "She seems to really enjoy it. I think those are the two things that when combined with a great work ethic, which she has, it can lead to success… And I would be first in line to be her customer."