History made at the World Series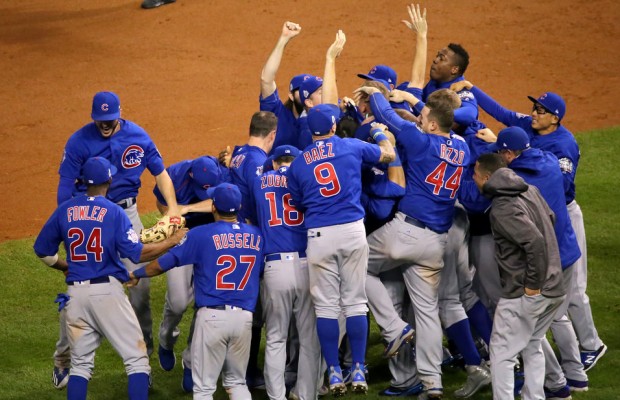 On Nov. 2, the Chicago Cubs beat the Cleveland Indians in game seven of the world series and made history. After 108 painful seasons, they did the impossible and came back from trailing a 3-1 Indians lead.
Chicago could not awaken their batters after a strong start by Corey Kluber, and the Indians took a 1-0 lead. Roberto Perez hit two homeruns and had four RBI's(runs batted in) to lead his team to victory.
However, even after being crushed in game one, the Cubs came back to win game two. Jake Arrieta shut out the Indians to only one run, and on the offensive side Kyle Schwarber went two for three with two RB'sI after just his second game back from a major knee surgery.
Chicago Cubs fans waited 71 years to return to Wrigley Field for the World Series, but the early results were not what they were hoping for. The Indians only managed to score one run, but the Cubs didn't score at all, and the Indians took game three.
The Indians kept the momentum going and won game four as well, their offense being lead by Jason Kipnis who went two for three with a two RBI double and a three run homer to account for five of their seven runs.
Cubs fans were losing hope as the Indians had a 3-1 lead, and only three teams ever came back from a deficit in the world series, much less on the road. But the Cubs came back to win game five after a strong game from Kris Bryant who went three for four with a homerun and an RBI double to lead the cubs to a 3-2 win.
The Cubs crushed the Indians 9-3 to win game six as well. Addison Russell, Kris Bryant, and Anthony Rizzo all homered. Russell had six RBI's and went down in history as the youngest player of all time to hit a grandslam in the world series.
With the series tied 3-3 in game seven, both teams put everything on the table. The Cubs got on the board early with a leadoff homerun by Dexter Fowler. Kyle Hendricks pitched an outstanding five innings and only allowed one run. The Cubs offense kept the pressure on the Indians and held the lead all the way up to the 9th inning, where the Indians rallied around a 2 run homer by Rajai Davis to take the game into extra innings.
In the top of the tenth Ben Zobrist hit an RBI double, and the cubs took the lead. Aroldis Chapman shut out the Indians and Bryant fielded the last ball with a smile to win the world series for the team with the longest world series title drought in MLB history.